Using a self-hosted version of WordPress for your private practice website means that you are in complete control over all the files, plugins and themes. It also means that you're responsible to make sure things are up to date and running smoothly and securely. Not performing regular updates to your WordPress files is one of the main ways hackers can gain control of your website and leave you empty handed.
In this post we'll talk about the importance of keeping your WordPress up to date and go over how to do it.
The First Time My Website Got Hacked
Kinda like remembering the first time you saw The Lord of The Rings (geek alert!) or your first kiss… some of us (the unfortunate ones) remember the first time we were hacked.
For me it was my very first WordPress site that I built; one for my church.
It was almost 10 years ago and I knew nothing. But they were kind enough to let me practice using the church website as my guinea pig.
I remember waking up and getting an email from the secretary saying something was wrong with the website.
I opened my laptop and pulled it up to find that links to porn sites (yes, porn sites… on the church website!) were appearing throughout the website.
The worst part was, I couldn't log in to fix it.
I eventually did some crazy MacGyver moves and was able to make changes to the database and regain access. It took me all day.
Want to avoid a similar situation? Keep your WordPress up to date!
The Importance of Updating WordPress
The good folks at WordPress work hard to keep their software secure, fix bugs and also provide the best experience for their users.
They release the new updated code in the form of updates that you can apply to your website.
Here's why it's so important to perform these updates:
1: Updates Apply Security Patches
Hackers gonna hack, yo. That's what they do.
They look for vulnerabilities in code and try to find a way in to gain control of websites.
Each time a new version of WordPress is released, it comes with a nice list of all the vulnerabilities that they fixed in the code.
Hackers wait for that info, then search for websites that have not been updated so they can attack.
So, if you keep your website updated, you patch those holes and limit the ways hackers can attack you.
Applying updates quickly, when they are released, will cut down on the amount of time you're open to these malicious attacks.
2: Updates Can Fix Bugs
Sometimes when updates are released for a theme, plugin or WordPress itself, bugs can arise.
With any software, when the creators make changes, it can affect other aspects of the software they were not anticipating.
So more updates are released and on goes the train of progress.
Having the latest releases for your themes, plugins and WordPress means that you'll have the most stable version that works and takes into account any bugs that come up along the way.
This is also a great reason to make sure that you're using plugins that get updated recently.
3: Updates Add New Features & Functionality
So much has changed since WordPress was first released back in 2003.
Back then, it was a platform primarily created for bloggers.
Now, according to Manage WP, WordPress powers 26% of the internet!
With each update comes more functionality to make operating your website a better experience while giving you more options to make your content shine.
The same goes for plugins and themes.
One of the reasons why I like the Divi WordPress theme so much, is that they are constantly improving it, giving you more features to create beautiful websites.
Using the latest versions will give you access to new features you can use to make your private practice website even better.
How To Perform Updates in WordPress
First, Create a Backup
Before you make any updates, make SURE you create a backup of your website first.
Sometimes updates can conflict with a plugin or theme and crash your website (scary stuff).
But having a backup means if your site crashes, after the initial freakout, you can get to work restoring your website to the working version.
Some hosting services offer daily backups of your files, but if not, you can use a plugin like UpdraftPlus to schedule automatic backups of your site.
Making Updates in The WordPress Dashboard
Once you have a backup of your website, head to the WordPress dashboard.
If you have updates that need to be performed, you'll see an circle with a number in the top left, under the Dashboard menu:

Click on "Updates" and it will take you to the WordPress Updates page where you can view the latest updates.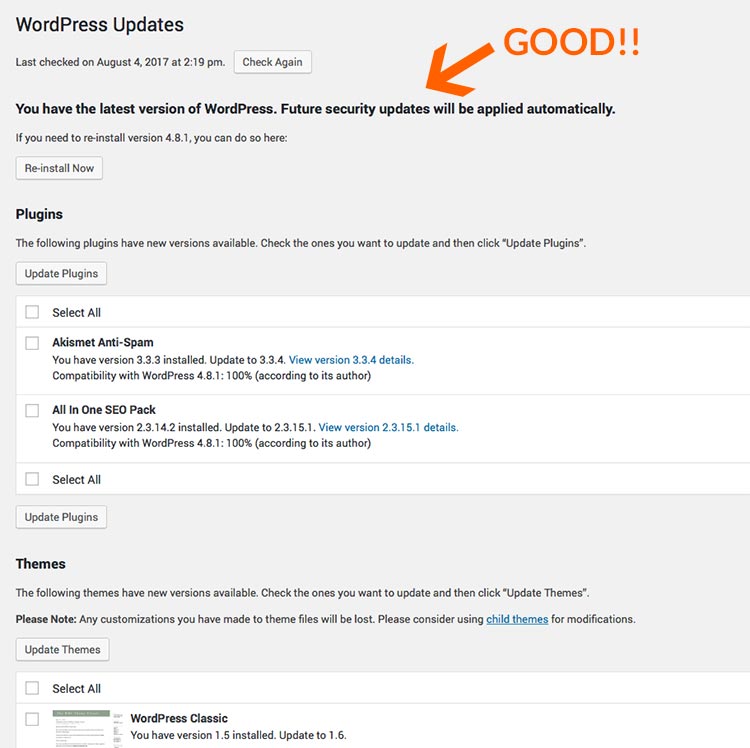 On this page, you'll see your updates broken down into three categories: WordPress, Plugins and Themes.
Start with your WordPress version and make sure that you're always using the latest version.
If not, click on the update button. The latest version of WordPress automatically applies minor updates automatically, which is a great thing to have.
Moving onto Plugins.
Before updating plugins you'll want to make sure that they are compatible with your version of WordPress.
Look for this sentence:
"Compatibility with WordPress 4.8.1: 100% (according to its author)"
If you see that, you know that you can safely apply the plugin's update without causing any issues.
You can check off each plugin you want to update, then click the "Update Plugins" button.
Lastly, you'll see your Themes.
Finally, the last thing that may be updated are any themes you have installed on your WordPress.
Like with plugins, you can select the ones you want to update and click the "Update Themes" button.
I recommend keeping all themes up to date, even the ones you're not using, just to be safe.
How to Always Make Sure Your WordPress Files are Updated… Let Us Do It!
While keeping your website up to date is extremely important, all this WordPress maintenance can eat up a lot of your time.
You'll want to spend time each week making sure your WordPress, plugins and themes are using the most current version in order to keep your private practice website secure and running smoothly.
If the thought of this constant maintenance doesn't get you up in the morning, check out our monthly WordPress maintenance service.
We'll offload all your maintenance tasks, such as daily backups, constant updates to WordPress, plugins and themes plus scans of your website to make sure you're not open to any malicious hacking attacks.
Learn more about the WordPress maintenance and support packages here to get started.
SaveSave