Establish Your Online Presence
With A Professional Website + Monthly Support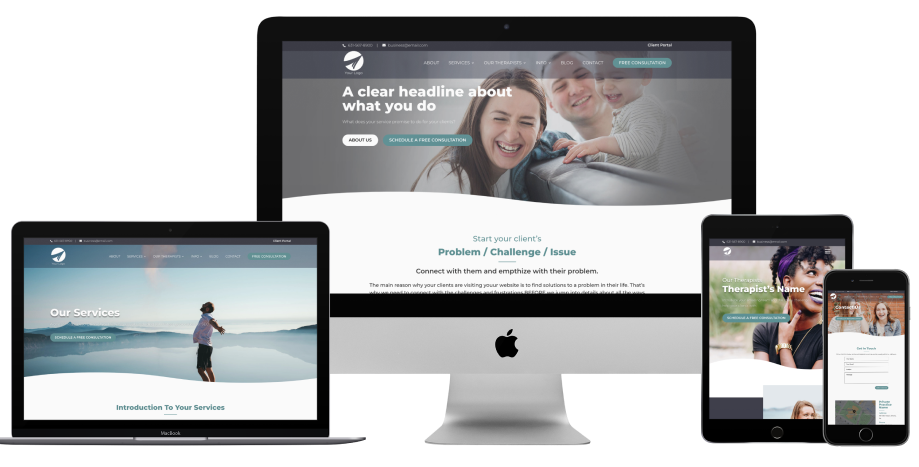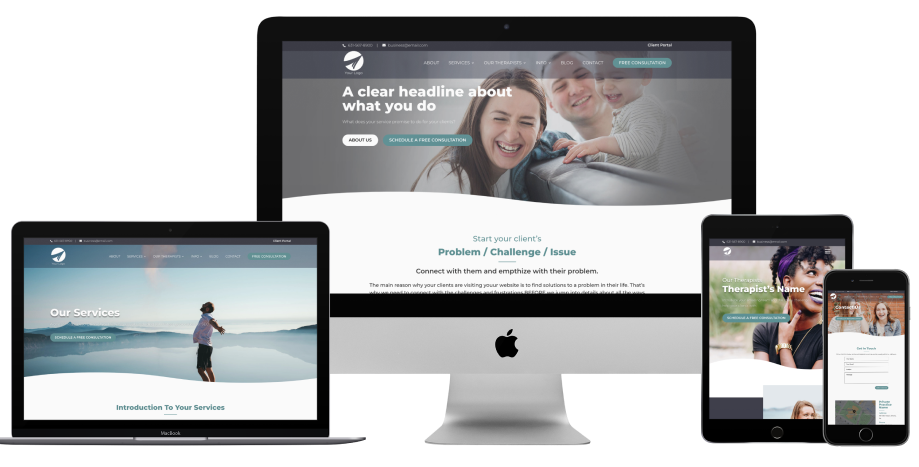 Establish Your Online
Presence
With A Professional Website + Monthly Support
You need a website in order to create a foundation for

marketing your private practice.
A place where your ideal clients can find you, connect with you, and learn about your services. You see, your website
should be something that propels your business forward by positioning you as an expert and trustworthy therapist. It should attract traffic and convert it into new leads and clients.
You see, your website should be something that propels your business forward by positioning you as an expert and trustworthy therapist. It should attract traffic and convert it into new leads and clients.
That's the point of a website, right?
But what happens when you're still in the startup phase of your private practice, when every dollar counts?
In an attempt to save some money, most people turn to DIY platforms like Wix and Squarespace to get their business online. While that can be a great starting place to generate some clients, it often comes with a cost…
The Trouble With DIY Websites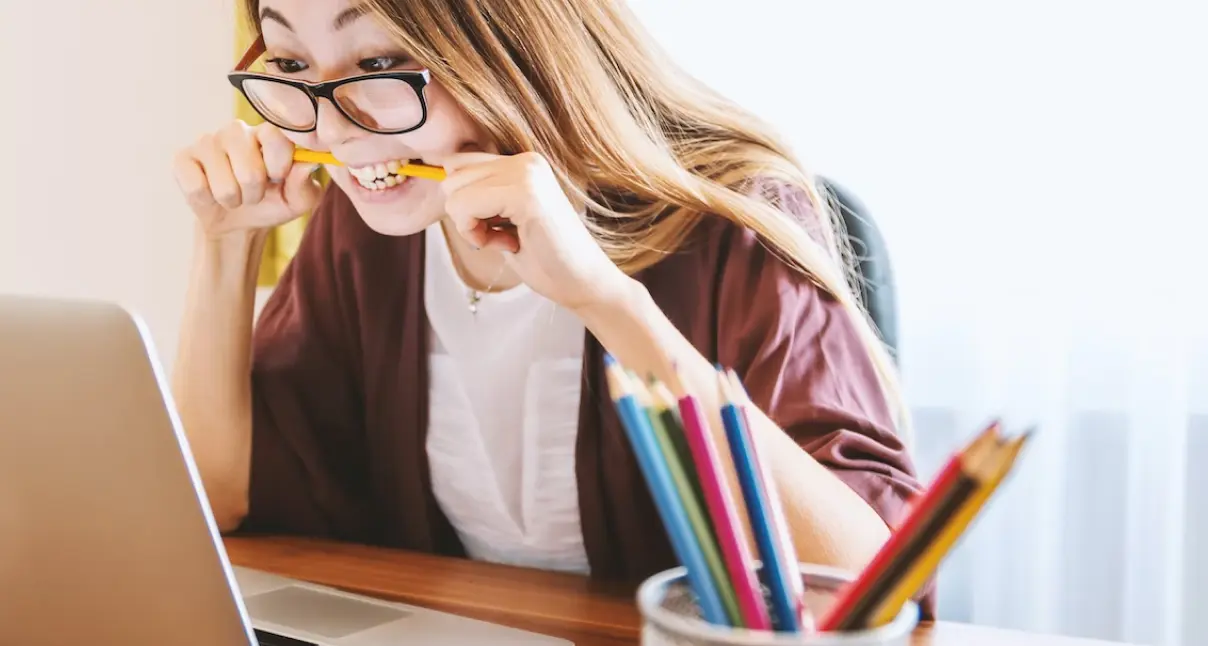 They often look DIY – need a website that positions you as a professional and expert – not someone desperate for new clients.

They suck your time – You'll need to read tutorials and watch YouTube videos to understand how set up your website and create pages.

Your second guess if you're doing it right – Even after following those tutorials you may end up missing key design and content elements that can help you convert more visitors into clients.

They have trouble attracting organic traffic from search engines – Don't have the proper amount of content in order to rank.

They become outdated – If all this online marketing and tech stuff isn't fun for you, you end up losing steam and not making important updates to the website as your practice grows.

Your left with a website that you'll probably want to redesign in a couple years anyway – Because in the end it doesn't reflect the level of professionalism you know your practice provides.
Introducing Our Website Basecamp Package
Establish an online presence with a beautiful website plus monthly support.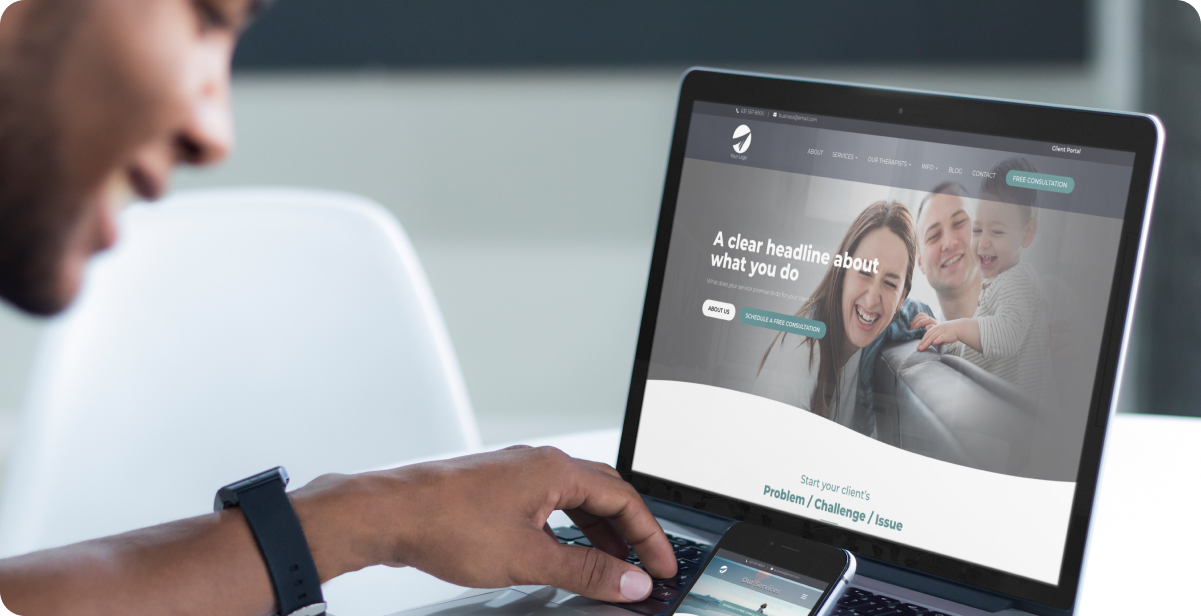 Our Website Basecamp Package is created for therapists who are new in their online marketing journey and
want a modern and professional website that their practice can grow into, without breaking the bank.
You don't need a fully customized website website with all the technical bells and whistles, you just need a place where you can begin connecting with potential clients. After working with scores of therapists and private practices, we've designed a website template based on what works best for reaching your ideal clients and converting them into new clients in your business.
Because we're only using this template as a starting point for layout and content, we're able to edit the colors, fonts,
and photos to make this website uniquely yours – branded for your practice.
This speeds up the process and saves you thousands of dollars – allowing you to get your practice online sooner and
keep money in your pocket. And because each Website Basecamp Package includes a website care plan, you'll have
your own web team in your back pocket, allowing you to focus on your clients and business while we take care of all
the tech stuff.
On WordPress to future-proof website
Copy templates help you write copy that will rank in search engines
Website Care Plan means you don't have to make changes, just send it to the team
Top-notch hosting and security
The Website Basecamp Package is a 12-month plan to establish and elevate your online presence.
It includes: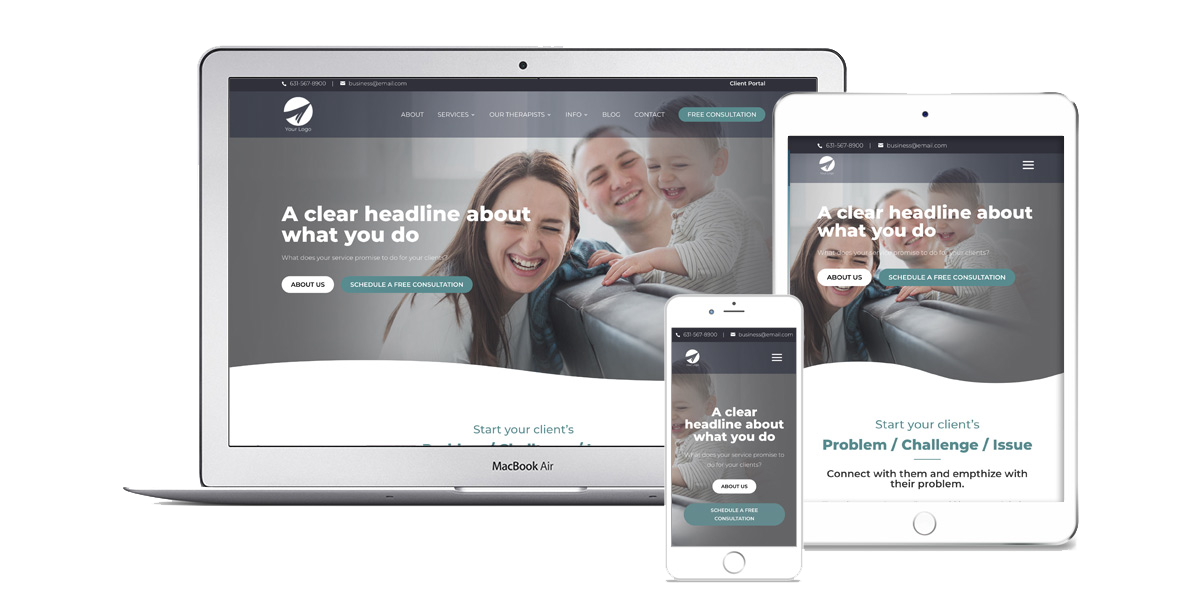 Development of a 10 page website, built on the WordPress platform


Copy templates to help you write content that connects with your clients and ranks in search engines

Monthly Care Plan after launch to keep the site up-to-date, secure, and performing well

Access to our Support Desk after launch – you'll have 2 hours of support time each month. Just send us an email when you need updates made and we'll take care of the rest

Monthly hosting and SSL certificate

Access to our premium Divi WordPress theme license – A $249 value.

Project add-ons, such as SEO, to help you reach your goals faster
"A lot of web designers know how to make something but they don't necessarily know how to design something that looks clean and is marketable to this niche.
The overall workflow made this process easy. The handouts, guides, and questionnaires during the on-boarding process were so helpful. Hire Daniel and his team if you want a great looking site without the headaches of having to deal with a developer that doesn't not know or understand the mental health field."

3 Steps to Your New Private Practice Website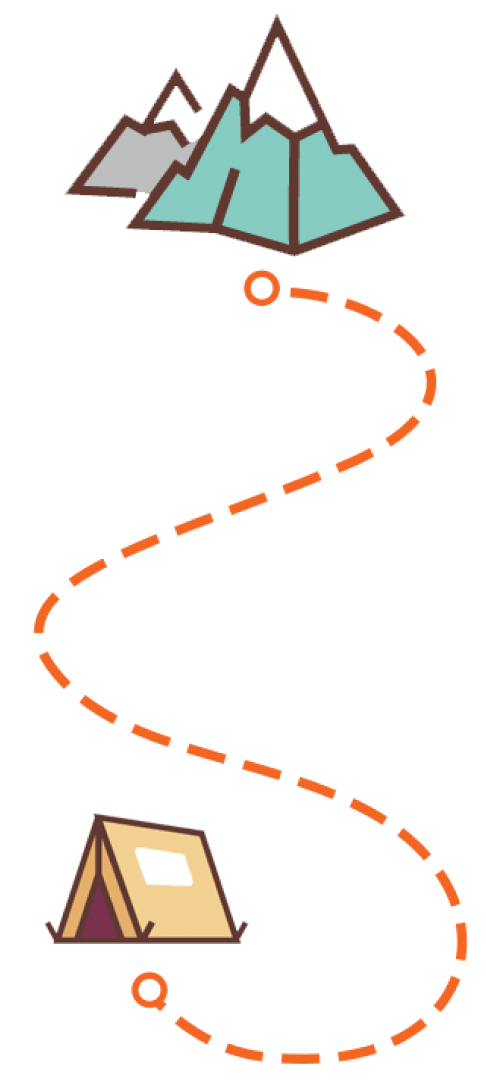 Lets Chat
We start with a 15-minute Clarity Call to make sure we're a good fit for each other. If we are, we'll schedule a Website Accelerator Session to dig into your current online presence and identify opportunities.
During your Website Accelerator Session, we'll discuss your project at a high level. By the end of this call, we can usually provide an estimate of the investment needed to reach your business goals.

You Provide Content
Once your project is a green light, you'll need to provide us with all we need to turn our template into a website that reflects you and your practice. You'll get copy templates to fill in so you can provide us with the words that will go on your website. We'll provide you with a Google Drive folder where you can upload new photos if you'd like to use your own. We'll also have you answer some questions so we can nail down things like color and fonts.

We Put It All Together
Once we have all we need we'll execute your project. We'll take all the words and photos you've provided and start building out your pages. We'll also update colors, fonts, and the logo to turn our template into a unique website that reflects your brand. When everything is in place, we run through our pre-launch checklist before making the website live!
Start reaching more of your ideal clients with a professional website.
With our Website Basecamp Package you not only get a great website, but access to a team that's here to support you in your online marketing journey.
Starting at $299/mo for 12 months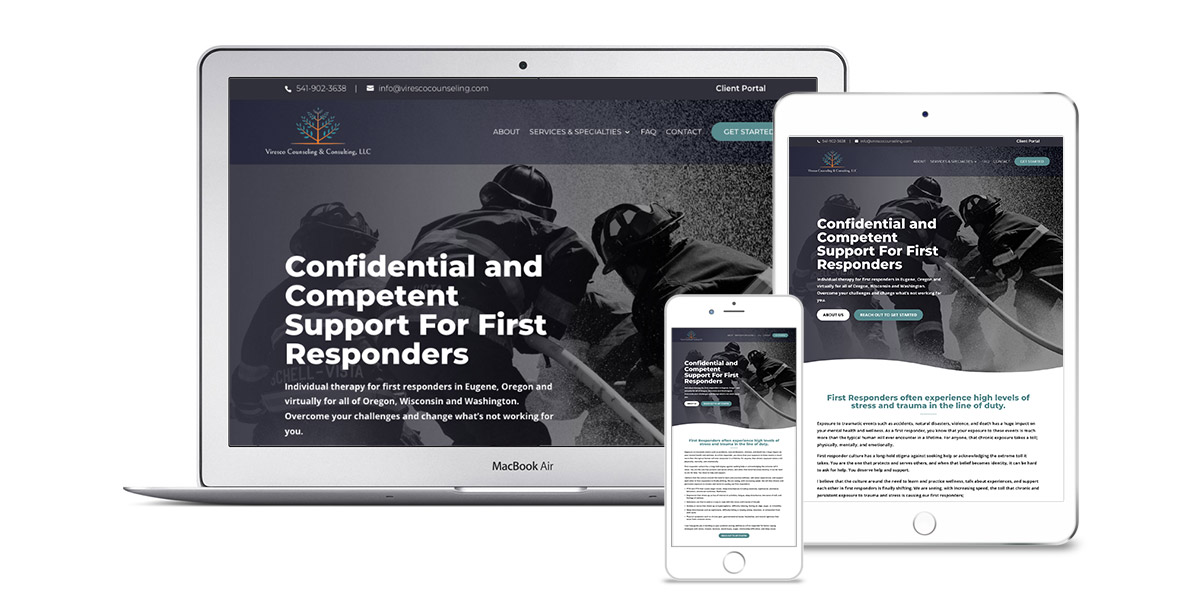 Viresco Counseling
Katy Ainslie-Wallace offers therapy for first responders and individuals in Eugene, Oregon, and virtually for all of Oregon, Wisconsin, and Washington.
Our Website Basecamp Package Also
Includes:

Planning & Strategy Consult
1-hour video call to talk about vision and goals your business.

Domain and Hosting Setup
We'll get you set up with a domain & fast-speed hosting.

Easy to Use Pagebuilder
Built with WordPress and the Divi theme so you'll be able to edit the content easily.

Alt Tags on Images
Increase the number of people who find you through Google images.

10 Pages
We'll build your core content pages using the copy and images you provide.

Responsive Design
Allow people to discover your website on thier computer, iPads, or phones.

Anti-span Contact Forms
Make sure people filling in your contact forms are real potential clients and not nasty spa, robots.

Optimized for Fast Loading
Keep your website fast for your visitors even if you use lots of images.

Blog with Categories
Increase the number of people who find you on search engines and keep readers on your website longer.

Off-site Backups
Easily fix your website in the unlikely event you get hacked or something goes wrong in the future.

Google Analytics Integration
Keep track of how people use your website so you can continue to improve over time.

Google Maps Integration
Allow your customers to easily find the physical location of your business.

All the Must-have Plugins Istalled
1-hour video call to talk about vision and goals your business.

Library of Page Layouts
Easily create new web pages consistent with your website's design.

Social Media Sharing Buttons
Make it easily for people share your website on social media.

Video Training to Give You the Power
Make it easily for people share your website on social media.

Free License to Premium WordPress Theme
"I got a lot more for my money than I even realized I would. By using the Website Care Plan, I was able to get a lot of work done for a great price, and I also learned a lot from the support team. I am thrilled with my website! I'm getting a lot of very nice compliments from both clients and other professionals, and I feel more empowered than I ever have before to work with my site myself.
Daniel is a really patient, timely communicator, and in addition, he's just a really wonderful human being, so it felt great to support his business."

LIZ MILLER, LPC, LMHC, NCC
Frequently Asked Questions
Who is the website basecamp package for?
The Website Basecamp Package was designed for the private practice owner who needs an online presence that can grow with them as their business grows.
It was created with the startup therapist in mind. When you start a private practice, there's so much to do and so many hats to wear. The Website Basecamp Package will allow you to offload the technical hurdles that often hold therapist back from having a great website that gets them clients.
You get a modern and professionally designed website that can start attracting clients and send to referral sources as you build your practice.
And because it includes a Website Care Plan, you'll have a team taking care of your website and rooting for you as you gain momentum with your marketing.
We also use the WordPress platform, which means you'll be free to completely customize your website well into the future. So if/when you add new services or decide to transition to a group practice model, you can keep your content as a foundation and alter the site to fit your growing needs.
What's included?
The Website Basecamp Package is a 12-month program that includes building of your new website and post-launch maintenance and support.
Here's all that's included:
Access to our professionally designed website template to be used as a foundation for your website's layout
Development of a 10-page website (extra pages can be added at $49/page)
Post-launch Trekker Website Care Plan to keep your website up to date and functioning at its best
Access to our support team – including 2 hours of monthly website edits
High-speed managed WordPress hosting
SSL certificate
See the rest of what's included above!
What is the cost?
Because The Website Basecamp Package includes both the building of your website and access to our support team and care plan post-launch, it works on monthly payment plan.
The starting cost is $299/month for 12 months.
Other factors that may increase that monthly cost would include:
Adding more pages than the 10-page base package ($49/page)
Adding our SEO Basecamp to fully optimize the copy you provide to improve your search rankings
Adding an email marketing package – we can design a freebie and set up your email marketing campaign to deliver a PDF when people opt in to your email list
Any other functionality on a case-by-case basis
What does the process look like?
After submitting your first month's payment and signing the contract, we get to work putting together a plan and mapping out your project.
We'll send you a project questionnaire to gather all the info we'll need about your business and brand preferences.
We'll then meet to make sure we all know what's going to happen when.
You'll receive your copy templates and start writing your content. You'll also gather photos you'd like to use and upload them to our shared Google Drive.
Once we have all your copy, photos, and design preferences, we'll begin the development of your new website. We'll create all the pages and input all the provided content.
If we don't have all the content, we'll just include placeholder text that can be updated under your website care plan after the website is live.
Once we've got all the pages and content in place, we'll run through our pre-launch checklist to make sure everything is up to our standards before making the website live.
After launching our website, you'll be put on our Trekker Care Plan. We'll make weekly updates to your software to make sure everything is functioning well and secure from hacking. Any changes to content (adding of pages, editing of text, publishing blogs, etc.) can be sent to our support desk.
We'll be your website's secret weapon behind the scenes, taking loving care of your online presence.
At the end of your project, we'll meet again to go over how to get the most out of your Website Care Plan and how to use your website to market you're practice.
We'll also have a mandatory check in 90 days after your website is launched to see how things are going in your business and make sure you're getting the most out of your new website.
How long does it take?
After submitting your first month's payment and signing the contract, we get to work putting together a plan and mapping out your project.
A typical project follows these phases:
Gathering photos/assets and writing copy – 6 weeks
Website development and launch – 4 weeks
Website care plan – remainder of your 12-month contract
So you can expect your website to launch around the 2 month mark of your project. But this cand depend on factors like how much time you devote to writing your copy, being available and responsive when we ask for feedback or assets, or the size of your website.
Will you write website copy for me?
This package does not include website copywriting. If you'd like our team to write copy for you, we do that under our standard website design package, which includes custom design and development.
With The Website Basecamp Package, we'll give you copy templates that you can use to write your own copy in the format we need. You'll be able to follow along with the website template and fill in the sections with copy. We'll give you tips along the way on how to write for you target audience, and we're always happy to provide you with feedback.
What will you use to build my website?
We'll use two things to build your website: WordPress and Divi Theme.
WordPress is the most popular content management system and is currently powering 43.2 of all websites on the Internet. Using WordPress means that once your website is built, you'll be able to add content like new pages, blog posts, photos and videos. It gives you full control and the freedom to make changes all on your own or hire someone else to do it. WordPress also means that you can customize your website in the future more easily if you add new services or need new features on the website.
The reason why we use The Divi WordPress framework is because it provides the most flexibility to provide our clients with a customized and responsive website that's easy to update. Because Divi allows for endless possibilities for customization, you'll get a website that is truly unique for you and your private practice. It also comes with simple tools, like a drag and drop page editor, to make it easy for you to update in the future, should you want to do it yourself.
Can I see some websites you've done for other therapists and private practices?
Absolutely! Feel free to check out our portfolio, where you'll find links to past projects as well as case studies and testimonials
Are there any other costs involved with owning a website?
If you don't already have one, you'll need a domain for your new website. This will run about $15 a year and you'll have to renew it each year.
Another thing you'll need is a place to host the website. We include hosting as part of The Website Basecamp Package. Once your 12-months is complete, we'll downgrade you to our Day Hiker Care plan, which includes hosting, maintenance and 30 minutes of support time each month.
Do you provide training once the site is live?
We never hold your website ransom and want to empower you to have a basic understanding of how to edit or create content on your own, should you choose to do so.
Once your website is live, we'll schedule an hour-long, one-on-one training to teach you how to use your new website. We'll record this training so you can refer to it in the future.
Your website will also have tutorial videos right in your dashboard to show you how to use WordPress and carry out basic functions on the website.
And since this package includes our Website Care Plan, you'll also have access to our support team to make edits and ask questions.
Do I own the website and content?
We don't believe in holding your website ransom. You'll get full access to your website so that you can make changes to the content or need to contract work with others for marketing your practice.
All images and text are owned by you and you're free to use the website how you see fit to serve you and your private practice.