Therapy Website Audit + Coaching
Evaluate your website and get an online marketing strategy specific to your private practice.
Audit Your Website
As a private practice owner, you're inundated with an endless list of things you SHOULD be doing to market your private practice. 
Website design, copywriting, search engine optimization, blogging, and the list goes on…
But what steps can you take specifically? What can you do to actually use your website to grow your private practice and increase your revenue?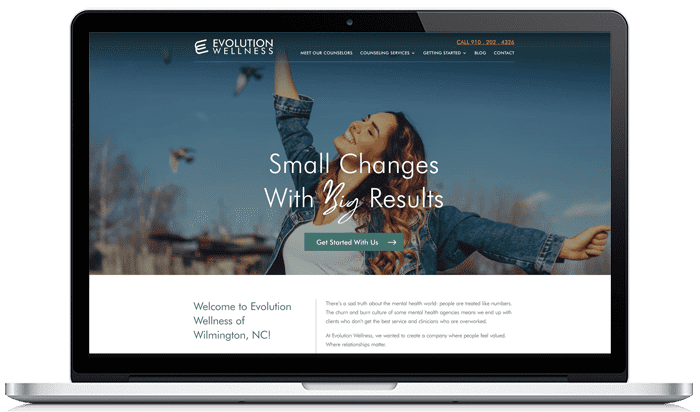 Having a solid plan to improve your online presence and get more clients will save you time and money.
With all these "website to-dos" piling up you end up feeling overwhelmed, confused, and unable to see the forest from the trees.
And throwing things against your website to see if it sticks is costing you time and precious money as you try to figure all this out on your own.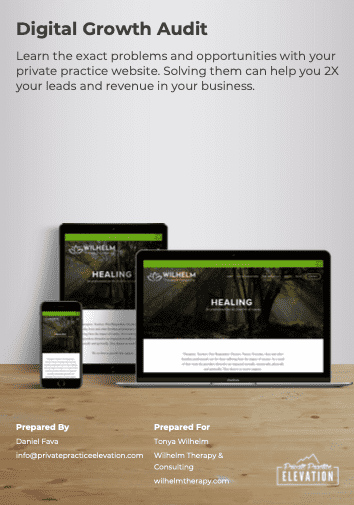 Website Audits are designed to give you the answers and confidence you need to move forward with effectively marketing your private practice online.
Since 2016, I've helped scores of private practice owners redesign their websites, get more traffic, and convert that website traffic into new clients.
Just take a look at these case studies for some of the results our clients are getting.
With a Therapy Website Audit, you get access to what I've learned and the tried and true strategies we use to create websites that improve our clients' bottom line.
Together we'll dig into your specific situation to uncover what's working, what isn't working, and where you should begin.
You'll walk away with a handful of ways you can improve your website, SEO, and overall online presence so that you can reach your business goals.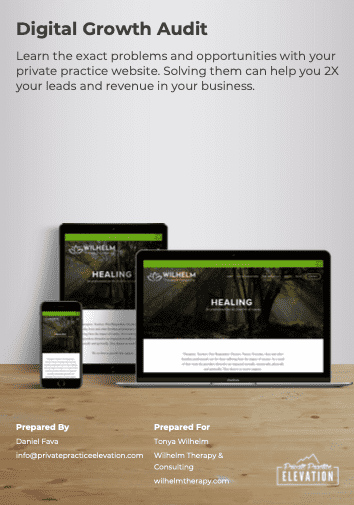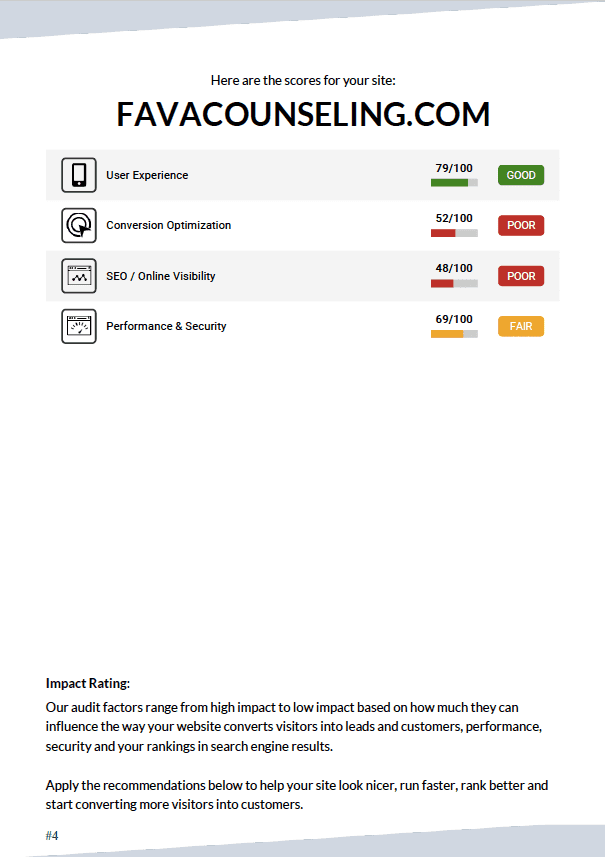 With a Website Audit, you'll get specific action steps on the most important things you can do to improve your website.
You'll receive a report that will help you efficiently evaluate your website's strengths and weaknesses in over 40 ways.
A website audit can help you with:
User experience and the key components that will allow potential clients to find what they're looking for quickly
Factors that will impact your conversions so that you can get more clients from your website
The most important SEO ranking factors and how you measure up so that potential clients can find you in Google
Performance issues and ways you can improve your load time for improving SEO rankings and a better experience for your potential clients
Each Website Audit includes:
A 1-hour call to review
A detailed PDF audit report to evaluate the effectiveness of your website
2 hours of support time to fix the most important issues
Get Started With Your Website Audit
Step #1
Sign Up
Purchase your Website Audit below and answer some questions about your website and private practice.
Step #2
Schedule A Call
Once we audit your website for what's working and not working, we'll schedule a strategy session together.
Step #3
Get A Plan
We'll review your audit together and you'll walk away with specific things you can do to improve your online presence.
"A therapy website audit helped me understand what was working on my website and what was not.
I received a range of suggestions, some simple and some more complex, for what I could do to improve my website. After implementing the recommended SEO changes I noticed an increase in requests for services very quickly.
If you are struggling to build your practice start with a website audit. The money and time investment are very reasonable and well worth the results! My practice is now full. Six months ago I thought that would be impossible. It works!"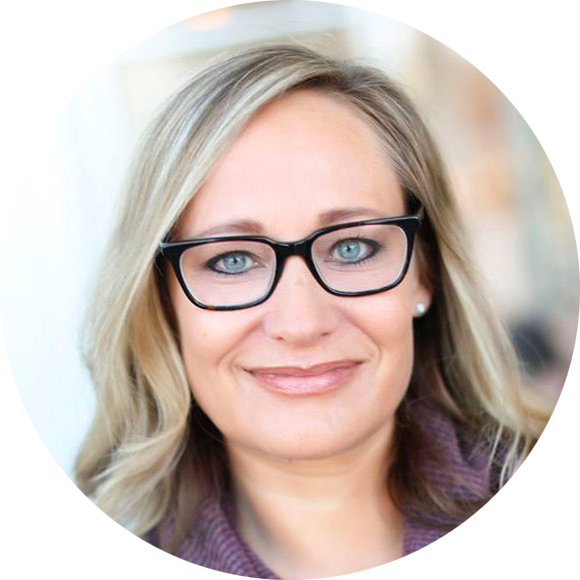 A Website Audit can help you…
Get a clear sense of direction and know what improvements you can make to your website.
Feel confident knowing what to focus on in order to create momentum in your online marketing.
Take your mile-long website to-do list and cull it down into a handful of strategic tasks.
Understand how your website fits in with your larger marketing strategy so that you can continue to grow your private practice.
Get A Customized Roadmap For Your Private Practice
You could continue feeling overwhelmed by all of the website and marketing strategies you hear about in the Facebook groups and podcasts.
All that leads to is missing out on new clients and revenue in your business.
Or we could hop on a call, dig into your situation, and come up with some clear steps to get you closer to your business goals.
What's Included?
Each Website Strategy Session Includes the following:
1-hour Zoom Call
This call will be recorded and you'll have access to it after our time together, so you won't miss a thing.
Website Audit Report PDF
This 49-page website report measures everything that matters to the online success of your private practice. In other words, it's all you need to make more strategic website and online marketing decisions.

You can use this report to quickly and efficiently evaluate your website's strengths and weaknesses—in more than 40 different ways.
How Does It Work?
The first thing you'll do is purchase your Website Audit by clicking on the buttons on this page and going through the checkout process.
After that, you'll receive an email that will contain:
A link to a form to let us know more about your situation, your goals and pain points.
Once we've conducted your website audit and finished our 40+ point checklist, we'll reach out to schedule your strategy session to discuss our findings.
We'll talk through the most important things you can do to improve your online presence and marketing.
Afterward, you'll receive a link to the recording of your call and a copy of your website audit report PDF. 
What Will We Discuss On The Call?
Your Website Audit Results
We'll start by discussing the results from your audit and what's working and not working with your website.
This will be the springboard to discussing your roadmap to success and the most important things you can do to improve your online presence.
Your Business Goals
The only way to create a proper online marketing strategy is to get very clear on where you are now and where you want to be. 
Once we understand your goals, we can put together a roadmap and the key actions to get you there.
SEO Strategy
We can't really talk much about a website without talking about what you can do to get your ideal clients to show up to it.
We'll discuss your content marketing plan, keyword strategy, your current SEO rankings, and what you can do to ensure a steady stream of organic traffic is visiting your website each month.
Website Effectiveness
We'll walk through your website together and I'll give you tips on ways you can improve it so that it best communicates the services you offer as well as ways to increase usability.