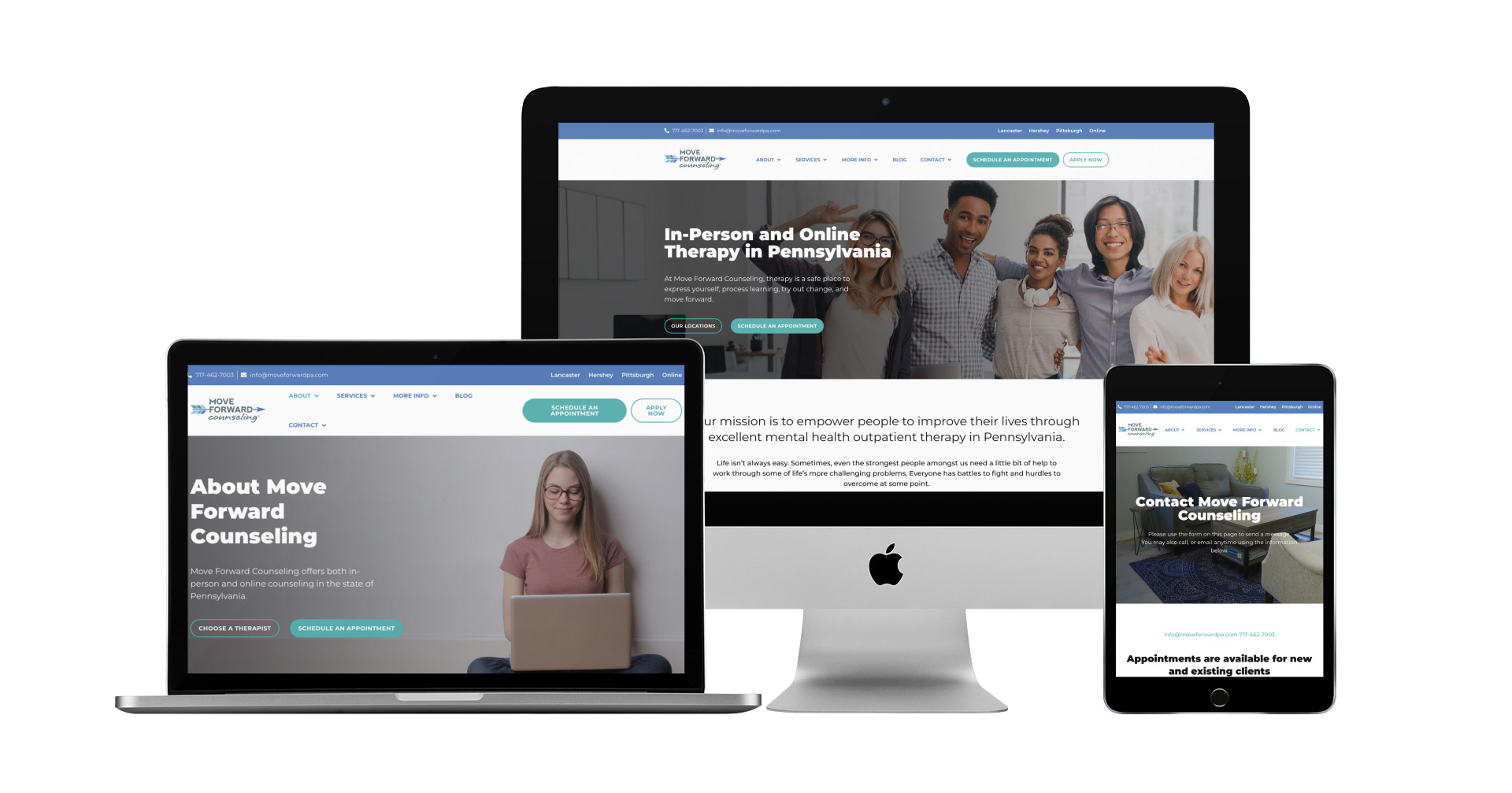 Exceptional Therapist Website Design Creates the Foundation for All Your Marketing.
And you need a therapist website design that's as unique as you are; one that reflects your personality and attracts your ideal clients but is also easy to update and simplifies your business. Combined with medical practice marketing, your practice and its website can soon dominate its online presence.
If you want to have a therapist website strategically designed for the needs of your private practice, we'd love to help. We're a click or call away, with web design professionals that not only understand the industry but what it takes to make effective, exceptional sites that convert!
My 22 years of web design experience combined with my understanding of the challenges of growing a private practice (I'm married to a therapist!) helps me and my team create functional websites, tailor-made, website design for therapists.
 Custom Website Design for Therapists
Starting with your content and the unique goals you have for your private practice, we'll create a custom therapist website from the ground up.
Website design and development is the most important step in our signature process, The Client Acceleration System.
100% custom website design for therapists & growing private practices
Content coaching to help you reach your ideal clients
Opt-in boxes to grow your email list
Integrate with your online scheduler
2 months of website maintenance & daily backups
1 on 1 website training
Easily edit or add new content
2 months of free support after launch
Get a unique website built JUST for your practice and your most-important goals
Finally get the website of your dreams
Level up your business with a website that looks great & builds trust
Future-proof your marketing with a website built on WordPress
Attract new clients & customers
Be found in Google
Save time and money
Spend more time on the business tasks you love
"It's been just under three months since we launched the website. I'm averaging 4 to 6 new leads a month and have added 16 new clients to my practice!"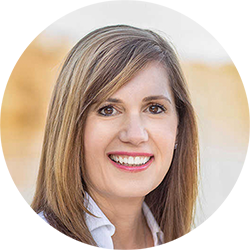 Keir Brady, Keir Brady Counseling Services
3 Steps to Your New Therapy Website
During this call, we'll discuss your project at a high level. We'll want to know more about your practice, ideal client and what success looks like. If we feel it's a match, we'll schedule a 2nd call.
During our strategy call, we'll nail down the scope of your project and the investment involved, based on our Client Accelerator System. By the end of this call, we can usually provide an estimate on the investment needed to reach your business goals.
When we both agree that this project is a good fit and within your budget, we'll create a project agreement for you. Once that's signed we'll schedule your project start date.
Our Website Design for Therapists Also Includes:
Planning & Strategy Consult
1-hour video call to talk about vision and goals for your business.
Domain and Hosting Setup
If needed, we'll get you set up with a domain & hosting.
Easy To Use Pagebuilder
Built with WordPress and the Divi theme so you'll be able to edit the content easily.
Alt Tags on Images
Increase the number of people who find you through Google images.
10 - 15 Pages
We'll build your core content pages using the copy and images you provide.
Responsive Design
Allow people to discover your website on their computers, iPads or phones.
Anti-spam Contact Forms
Make sure people filling in your contact forms are real potential clients and not nasty spam robots.
Optimized for Fast Loading
Keep your website fast for your visitors even if you use lots of images.
Blog With Categories
Increase the number of people who find you on search engines and keep readers on your website longer.
Off-site Backups
Easily fix your website in the unlikely event you get hacked or something goes wrong in the future.
Google Analytics Integration
Keep track of how people use your website so you can continue to improve over time.
Google Maps Integration
Allow your customers to easily find the physical location of your business.
All the Must-have Plugins Installed
For social media sharing, SEO, contact forms & more
Library of Page Layouts
Easily create new web pages consistent with your website's design.
Social Media Sharing Buttons
Make it easy for people to share your website on social media.
Video Training to Give You The Power
I'll show you how to make updates and post blogs with a 1-hour Zoom call.
One Month Email Support
For any questions that come up after we launch your website.
Two Month Website Care Plan
To keep things safe, secure and take care of any content changes you need after launch.
Free License to Premium WordPress Theme
What Clients Are Saying About Our Therapist Website Design Services
I hate to say it but in the world of web design, there seem to be far more "Professionals" who do not act or perform professionally, and I have been sorely disappointed multiple times. I've also had some very good experiences along the way.
But working with Daniel and the two websites he created for me goes so far beyond "good," I can't really put it into words.
But I'll try… Punctuality, expert guidance, never overpromising and always over delivering.
I knew I could have found hundreds of designers on places like upwork.com who were willing to make these websites at a fraction of the cost. But the end result and the amount of time saved by choosing Daniel has paid for itself 100 times over. If you're reading this and thinking about hiring Daniel, read no more and debate no longer. He is incredible and your business will love you for choosing him.
My old therapy website was outdated and tired looking, and there were misalignments that had accrued from automatic updates that I couldn't fix!
My new website really reflects my personality, and is ready to take me and my professional services to the next level! It's really beautiful, easy to navigate, and I believe I've already seen an increase in followers as a result.
I would enthusiastically encourage colleagues to look at my website and to talk with Daniel and to trust in the fact that he is a good listener, phenomenally well organized and well-prepared to walk people through what could be a painful process and to make it a joyful, collaborative, and creative experience. I am very grateful, and would recommend Daniel and his services without hesitation!
Website Design for Therapists FAQs
Can I see some websites you've done for other therapists and group practices?
Absolutely! Feel free to check out our portfolio, where you'll find links to past projects as well as case studies and testimonials
What if I don't need the full custom package above?
In order to help our clients get the most out of their investment, we currently focus solely on website design or redesign projects.
But, if you just need help with smaller website taks, updating and refreshing your current WordPress website, you may be interested in our support and maintenance packages here. 
What if I need something extra that isn't listed above?
No problem. When you fill out the form above, just mention the extra features you need whether it's custom designs or help with tasks like physical therapy marketing, online advertising, and so much more. Then we'll setup a time for your free 30-minute consultation call, discuss your needs and I'll provide a custom quote for you.
How long does the website design for theapists process take?
Once we begin your project, the process will take around 8-10 weeks from start to finish. How long it takes may be impacted (positively or negatively) by how prepared you are and how quickly you can provide me with feedback along the way. I do my best to limit the number of clients we work with each month so we can dedicate time and focus to your project.
What happens after the website is live? How can you help?
Just like a new BMW, your website needs proper care, maintenance, and servicing to get continued results.
At a minimum, we recommend monthly website maintenance to keep the site safe, backed up in case of hacking, and keep files and software up to date. For more information on the importance of website care, check out this blog post:
Why Website Maintenance is Key to a Successful Therapy Website.
60-Day Free Care Plan Support Period
Once the website is live, we'll put you on a 60-day complimentary period of our Trekker Care Plan. We do this so we make sure everything's running smoothly and you can get a sense of all our Care Plans offer. We'll fix anything that isn't working properly on your website and is considered a bug (this does not include changes to content, design, or feature changes).
After the 60-day period is over, we'll downgrade you to our Day Hiker Care Plan, or discuss a solution that works best for your business.
How much does it cost to create a website for my private practice?
The cost of a website can vary depending on various factors, such as the number of pages, certain functionality and the goals you're wanting to achieve. Our website projects generally start at $5000 and range upward depending on your unique needs.
Some clients work with us on single website projects, others go through our Client Acceleration System over the course of 12 months to elevate their entire online presence.
Are there any other costs involved with owning a website?
If you don't already have one, you'll need a domain for your new website. This will run about $6-$15 a year and you'll have to renew it each year.
Another thing you'll need is a place to store your website's files, called hosting. We include hosting as part of your Website Care Plan after launch, along with your SSL security ticket, website edits, and website maintenance.
After your free 60-day post-launch Care Plan, we'll put your website on our Day Hiker plan at $127/month.
You're also free to use your own hosting provider, should you choose.
How do I pay you?
You'll make two payments: 50% is a deposit to secure a spot in our project schedule and a 25% of the project balance is due 4 weeks after the project begins, then the remaining 25% when the site launches or 8 weeks after your project start date, whichever comes first.
You can pay via credit card.
What will you use to build my website?
I'll use two things to build your website: WordPress and Divi Theme.
WordPress is the most popular content management system and is currently powering 25% of all websites on the Internet. Using WordPress means that once your website is designed and built, you'll be able to add content like new pages, blog posts, photos and videos. It gives you full control and the freedom to make changes all on your own without having to hire someone each time want to make an update.
The reason why I use The Divi WordPress framework is because it provides the most flexibility to provide my clients with a fully customized and responsive website that's easy to update. Because Divi allows for endless possibilities for customization, you'll get a website that is truly unique for you and your private practice. It also comes with simple tools, like a drag and drop page editor, to make it easy for you to update in the future.
Will you write the copy for my private practice website?
Great copy often leads to a great therapy website and one that captures and converts your ideal client.
If you need help with copywriting, we can include this in your proposal. We've got a great copywriter at an affordable rate.
If writing your own copy, you'll have access to some guides to help you easily craft some of your most important pages.
Will I be able to provide feedback along the way?
There are two points in the project where we'll get your feedback to make sure things are on track with your vision. The first is when the homepage design is completed. We'll send the design to you and we'll go through two rounds of revisions. After that second round, we make those final changes and you sign off on the design.
Then we get to work taking that design and apply the same style to the rest of the website while we develop it. Once the website is built, we'll do another 2 rounds of revisions. You'll be able to click through the website and provide feedback on each page, leaving comments for us. Once those changes are made and the 2 rounds of revisions complete, you can sign off on the website and we move into the deployment phase.
Do you provide training?
We never hold your website ransom and want to empower you to have a basic understanding of how to edit or create content on your own, should you choose to do so. 
Once your website is live, we'll schedule an hour-long, one-on-one training to teach you how to use your new website. We'll record this training so you can refer to it in the future.
Do I need my own domain and hosting?
You will need your own domain. Your domain is your address on the internet, such as myprivatepractice.com.
We include hosting as part of your Website Care Plan after launch, along with your SSL security ticket, website edits, and website maintenance.
You're also free to use your own hosting provider, should you choose.
Do I own the website and content?
We don't believe in holding your website ransom. You'll get full access to your website so that you can make changes to the content or need to contract work with others for marketing your practice.
All images and text are owned by you and you're free to use the website how you see fit to serve you and your private practice.
Grow your private practice with a new website strategy.
Get more traffic. Get more clients. Scale your practice.
Whether you're looking to level up your private practice website's design, or need help navigating SEO so that your clients can find you, we can help.