The COVID-19 pandemic has spread around the world, destroying the economy and taking lives in its wake.
If you're like most therapists, you probably have found yourself needing to transition your entire practice to an online one as we all work together to stem the spread of this virus.
We're certainly not immune over here in the Fava household.
The day I'm writing this, our county has issued a state of emergency and all non-essential businesses are closing by the hour. I just got a text from my mechanic saying they're cutting down their hours. Sorry, Rocco!
My wife and I have been working out a schedule as we watch our 3-year-old son and balance keeping our businesses moving forward as best we can.
What's been amazing though is the sense of community that has grown out of actually NOT being able to meet in person!
Who would have thought?
So many people have banded together to share resources and help you make some difficult transitions in order to continue providing great therapy services to your clients.
Some of you may have already had a full or semi-online practice, so you may not have skipped a beat as you entered quarantine.
For others, it may have been (or continues to be) a scramble.
To help you out, we've collected many of the great resources out there to help your private practice survive the Coronavirus pandemic so that you can keep moving forward.
8 Private Practice Consultants Share Their Advice For How Therapists Can Succeed During the Coronavirus Pandemic
I was so inspired by all the resources and support that so many folks have been putting out in order to help therapists weather this storm.
So I reached out to a few private practice consultants and asked them to record their response to this one question:
"What's one thing therapists can do to help them adjust/plan/succeed during COVID-19?"
I recorded a special bonus podcast episode where each consultant share their number one tip. You'll hear from:
Listen to the bonus episode below:
Resources to Help Therapists Manage Their Private Practices during the COVID19 Pandemic
Gordon Brewer from The Practice of Therapy rounded up some great consultants to share candidly about how therapists can pivot, adapt and be successful through the COVID-19 outbreak. Listen to their conversation here.

Miranda Palmer from Zynnyme has put together a fantastic guideline for how to operate your private practice during this pandemic. In the guide, you'll learn:
Things you can do in your practice now
Physical steps to take in your office
Resources & Freebies for Therapists
Frequently Asked Questions
John Clarke from Private Practice Workshop put together a free COVID-19 resource list for therapists. Get it for free here.
From Kate & Katie at The Private Practice Startup:
You want to provide online counseling but aren't sure where to start when it comes to best practices. You also want to assure you're adhering to the legal and ethical standards to ensure you're not putting yourself or your practice at risk.
By registering for this FREE online course, you'll learn:
Best practices for online counseling
Essentials that need to be in your technology-assisted counseling consent
Required forms to provide telehealth services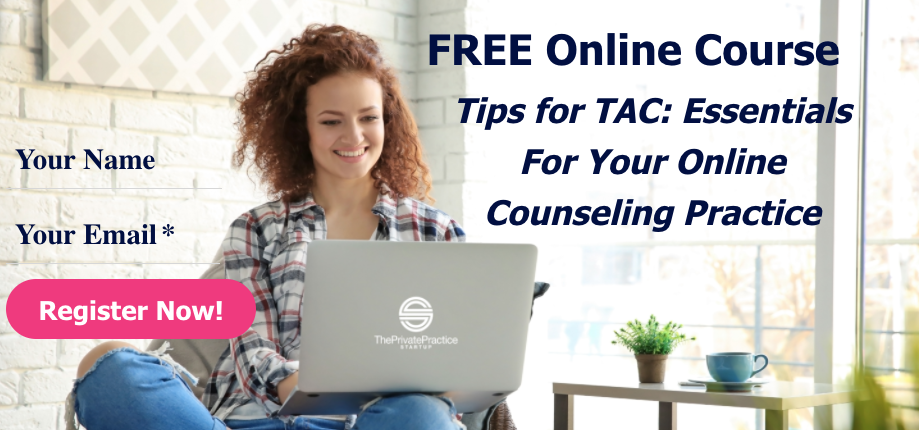 You can also check out The Private Practice Startup's blog post with more helpful resources for telehealth during COVID-19.
LIVE Q&A focused on Insurance, Telehealth, & Billing with Justin Gaines.
Move Forward Virtual Assistants:
Move Forward Virtual Assistants are providing telehealth transition projects for therapists making the switch to online. Here's a description, from their website, of the service:
"Mental health providers are burdened with the double duty of providing services and communicating with their clients a possible change in service delivery. We are offering services to therapists migrating their clients into their telehealth system. Our assistants will provide clear communication and connection for your clients during your transition to telehealth. With more support and communication, the therapist will be available to see paying clients instead of tracking down clients to see."
Learn more about Telehealth Transition Projects here.
We hope this list of coronavirus related resources help you navigate these unprecedented waters.
If there are any other resources that have helped you and your private practice during this time, please let us know in the comments below, so others can access them as well.