Google My Business (GMB) is one of the most important online tools for all businesses, including therapy practices. Believe it or not, just under half of businesses listed on Google receive at least 1,000 views per month on search. That's enough to keep a local private practice running indefinitely!
Fortunately, a Google Business Profile isn't too challenging to set up, even with such significant benefits! Let's talk about the benefits of using GMB and how to optimize your Google Business Profile for the best results in your private practice!
What Is a Google Business Profile?
Google My Business is a feature run by Google that allows businesses to list their information for public viewing. You've probably seen many GBPs after searching for something in your area like "dry cleaners" or "pizza shop". These profiles are particularly helpful for local businesses, including therapeutic and medical practices.
Do You Need Google My Business?
Before we discuss the optimization process, let's talk about why it's so important to get your therapy practice on GMB. Here are some of the primary benefits of using an optimized Google Business Profile.
Local SEO Benefits
Using a Google Business Profile for local SEO can help boost your strategy in more ways than one. First, it could directly help improve traffic to your website and help local potential clients find your practice when searching for terms like "anxiety therapist near me". This will indirectly help your SEO strategy while directly increasing leads.
Second, the more links you have to your website, the better. Sure, a link from GMB is not the same as a link from a psychology news website, but it will still help Google find, crawl, and index your site.
Finally, Google wants to know that you are who you say you are before promoting your website to its users. For that reason, Google looks at every domain, page, and profile that mentions your business to ensure that the information is the same. If your hours of operation, address, contact information, and all other data are consistent, this will help your website's credibility in the eyes of search engines.
If you're unfamiliar with how SEO works, it's actually far more simple and intuitive than you'd think, and the benefits are enormous. Feel free to check out our SEO guide for therapists if you want more information!
Direct Traffic
Having your business listed on Google is a great way to directly boost organic traffic to your website. Often, Google Business Profiles will skip the line for various searches, allowing you to jump ahead of other organic content, potentially including search ads!
On your profile, there will even be a quick link to your website, which will allow users who want more information to easily access it. Keep in mind that this type of organic traffic is far more likely to convert than paid ad traffic.
Even if you meet with clients online for telehealth visits, you'll still need to direct traffic to your website, and Google will likely use your location as a ranking factor, even for online therapy searches.
Direct Line of Communication
Think of your GBP as a social media profile without all of the ongoing maintenance work and content marketing. Instead, editing business profiles is fairly simple to do and you'll still have a direct line of communication with users, existing clients, and potential leads.
How to Optimize Your Google Business Profile for Your Private Practice
Now that you know some of the key benefits of optimizing your GBP, you're probably wondering how to do it. Here's what you can do to let your Google Business Profile work for you!
Choose a Set of Keywords
Like all other SEO or Google-related practices, keywords are an essential foundation for your strategy. Finding the right keywords are fairly simple depending on the clients you're looking to attract. For example, you can start with the obvious ones like "therapist near me" or "depression therapy in Boston".
Once you have a shortlist of the keywords you ultimately want to rank for, you can add them to a keyword research tool of your choice and find similar keywords that may help you. Most tools will offer the average cost-per-click for ads, their relative search volume, and the competition for those keywords (high or low).
For keyword research, we recommend Ubersuggest.com for its simplicity.
Ideally, you want to find keywords with the lowest competition and highest search volume, which you can always compare in Google Trends if the information isn't readily available.
After that, feel free to look at your local competitors' business listings and analyze their profiles for keywords you may be missing. Searching for keywords on competitor sites is just as easy, as you can add their URL to the keyword tool of your choice and it will analyze the page for you!
A great starting point for your keywords will simply be the specific therapy services you offer in your practice.
You can then take these keywords and services and add them to your Google Business Profile. You do this in the "Services" section in your GBP management screen. You can also add keywords as "Labels", which is found in the Info area under "Advanced Information".
Google Business Profile Services: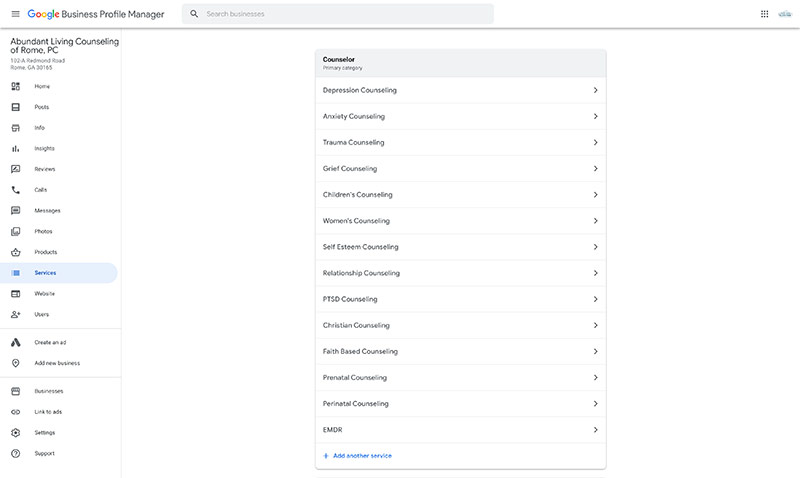 Launch an Account
Launching a Google account with a business profile is entirely free and easy to do. They'll offer the same kind of prompts that you'd find with most other online accounts, so just fill them out on the Google Business login page.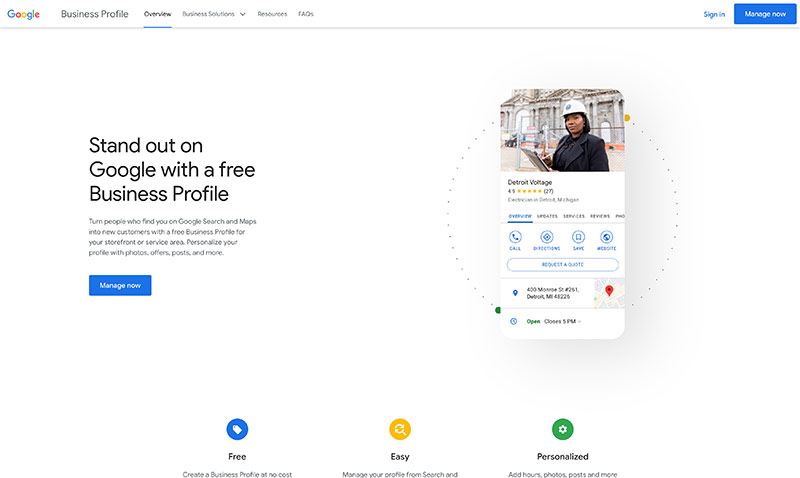 Keep in mind that your business may already be on Google's radar and all you'll need to do is claim it. This could save you a lot of time, so try searching for your business on Google and see if there's already information about your practice. If so, you may need to make some corrections, but there could already be a lot of info.
If you find your business, click "claim your business" at the top of the page. You will then need to verify that you own the practice.
Verify Your Business
This process is a lot easier than it sounds. After you register, simply click on the "get verified" tab on your profile, which Google will prompt you to do multiple times. From there, you can choose to verify through your phone or SMS and answer the call or text that has the code and insert it into the prompt.
Edit Your GBP Description
In your description, you'll need to add plenty of information about your business. Try to get the most important information out in the first couple of sentences, as that's where most users will stop reading.
For example: "We are a private therapy practice in Seattle with trained clinicians specializing in anxiety treatment and couples therapy."
That's enough to let users know what you are without expecting them to read your entire description, but don't stop there. Offer as much useful information as you can within the allotted word count.
When adding keywords from your research into the description, be careful to avoid keyword stuffing. Never use keywords or inflate your word count if it doesn't add value to your listing. Google will catch onto this, so try to use keywords as organically as possible.
Answer All Prompts
Google will prompt you with many different questions. The more you can answer, the better. At the very least, you should include:
Business hours
Contact information
Business address (be as specific as possible)
Directions (Google Maps listing)
Owner/Operator name
Industry and specializations
Link to your website
Photos (at least a few)
The list goes on, especially if there are any specific or unique features to your business that users need to know. For example, holiday hours, important policies, emergency updates, or anything else.
Try to fill out as much as you can and keep everything as informative as possible for your users. Remember that you're filling these out for their information, not for Google's algorithm!
Upload Photos
Posting GBP photos isn't too challenging, especially for a local private practice. Adding a logo and a picture of your building should be enough to get you started, but why stop there? You don't need a fancy camera to get clear enough pictures. An iPhone will work just fine for private practice.
Take pictures that are relevant to your business like the front door, your office where you practice, the front desk, staff in the building, or whatever you want! Just take clear photos with decent lighting and make sure users will be able to recognize them upon visiting. If you move locations, remember to upload new pictures!
Monitor Reviews
Reviews can be a controversial issue due to client confidentiality so you need to think through how to handle reviews.
User-generated content (UGC) is a major part of your Google Business Profile that you don't always have control over. However, you can monitor and respond to these reviews over time, so continue to do so immediately after launching. Too many negative reviews could harm your practice.
The "Q & A" section of your business profile is also very important. If you see questions from users, answer them as quickly and thoroughly as possible for other potential users to see. For a small or medium-sized practice, try to check in at least once a month.
Because of confidentiality, you likely can't solicit reviews from your therapy clients. But you can certainly reach out to colleagues and your referral sources and ask them to review you and your practice as a professional who knows and trusts you.
Launch Your GBP Today
Now that you know how to optimize Google Business Profile listings for private practice, why not put these tips to use today? It will only take a couple of hours to get your listing verified, optimized, and ready to generate leads! The sooner you get listed, the sooner you'll be noticed!
If you need help with increasing the visibility of your website and getting more organic traffic from Google, learn about your SEO services here. 
Related: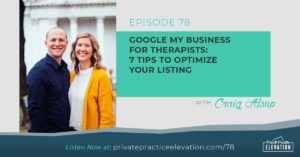 Private Practice Elevation Podcast Episode 78. Google My Business For Therapists: 7 Tips To Optimize Your Listing with Craig Alsup