When search engines crawl through your content, one of the first indicators as to what the page is about is the URL. You can use the URL of each page and blog post on your private practice website to boost your SEO game.
In this article, we'll talk about 5 ways to optimize URLs for SEO.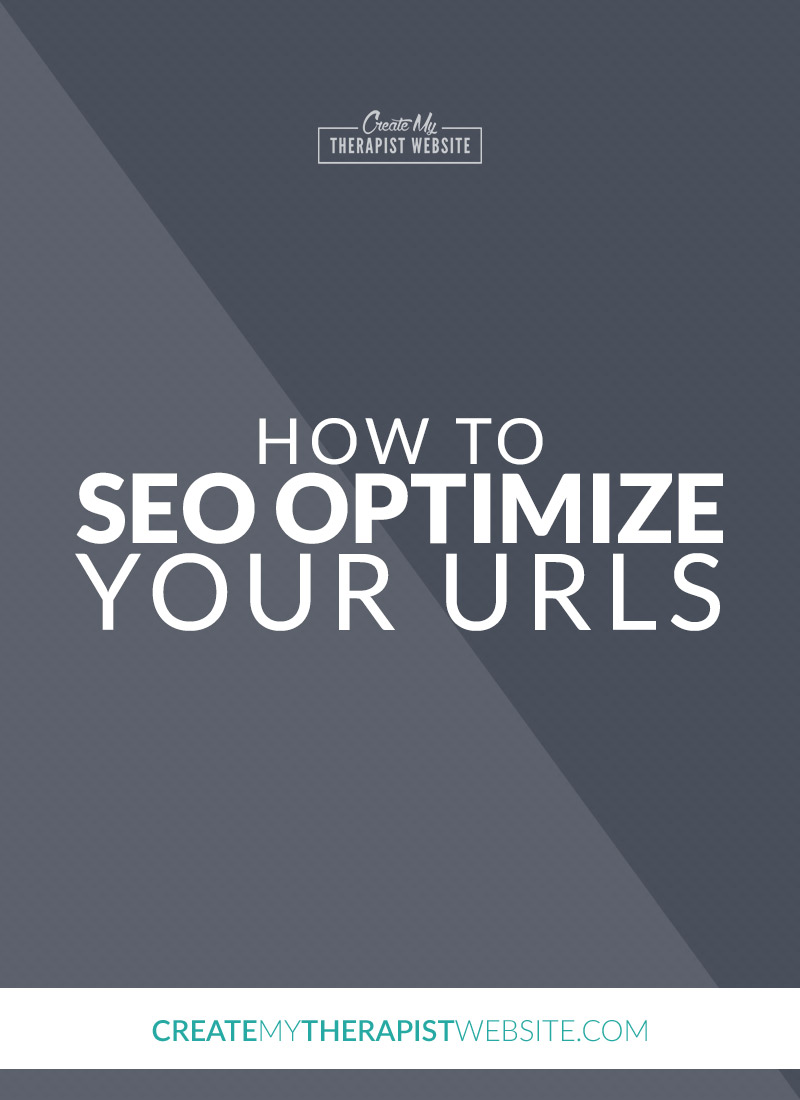 1: Optimize for Humans, First
Google is VERY smart.
Gone are the days of just slapping keywords in your content and ranking on page 1.
Because Google wants to show the BEST content for a user's search, you have to write for humans, not for Google.
Make your URLs as easy to read as possible.
This way, when someone sees a URL, they'll have a clear understanding of what they'll find by clicking on it.
Instead of URL like this: http://www.mywebsite.com/home/post?ID=128
You want something like this: http://www.mywebsite.com/10-ways-to-naturally-battle-depression
Which link would YOU rather click on?
2: Place Your Keywords in the URL
This one is pretty straight forward.
Decide what someone would type into Google to find the content you're creating and place those keywords in the URL.
As I mentioned in this post's intro, the URL is one of the first places Google will look to indicate what the page is about.
Research has also shown evidence of something called "domain bias".
This means that users will often judge content based on whether they believe a domain to be worth a click based on the URL.
Putting your keywords in the URL will help users know exactly what they'll get from clicking your link in search engines.
3: Keep URLs short, If Possible
This one is about usability, more than the technical side of Google.
Going back to tip #1 in this post, you want your URLs to be easily read and understood by humans.
A shorter URL will be much easier to read, easier to remember, easier to copy and past and can be understood more quickly than a super long URL.
There's not hard and fast rule here, but I'd try and keep it as short as possible and well under 100 characters.
4: Separate Words with Hyphens & Underscores
You can break up the words in your URLs by separating them with hyphens or underscores.
Sometimes, when you leave a space in your URL, it will render as %20, which just looks weird and detracts from the keywords I know you're putting in your URL.
Most content management systems, like WordPress take care of this automatically, but it's worth a mention.
5: Keep URLs Consistent with Page Titles, If Possible
To create a consistent user experience and re-iterate the page content, try and match the words in the URL with the words of your page title.
If you have a super long title for a blog post (10 Ways To Survive Family Dysfunction During The Holidays… Without Drinking), it doesn't mean that it has to be word for word.
But you do want some consistency that will let the user know what they'll find by clicking the link and then be reassured when they see the title when they land on the page.
Something like http://mywebsite.com/survive-family-dysfunction-during-holidays would totally work here.
This will also help when you share the link on social media.
Your followers will see the title of the page and the matching URL close by, giving them confidence to click.
Wrapping UP
I hope you've found these five tips useful as you optimize your private practice website for search engines.
SEO can be a fickle beast, but if you keep tips like the above in mind while you consistently create content, you'll see positive movement over time.
If you'd like to learn what Google finds most important and how to SEO your private practice website, check out my mini-course, A Little Course About SEO.
[av_sidebar widget_area='seo course' av_uid='av-b417l']