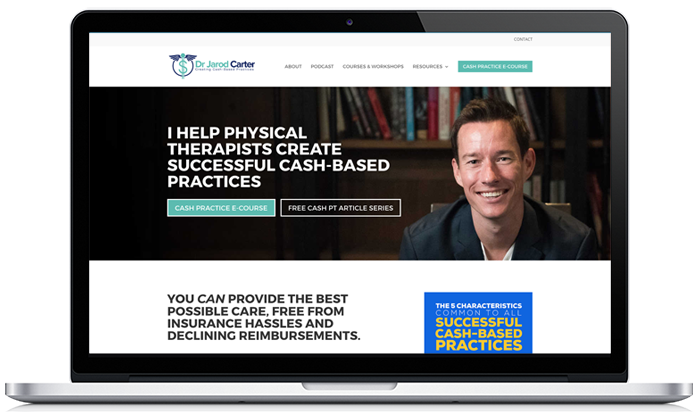 How we turned one physical therapist's outdated, clunky website into a beautiful lead-generating machine.
As a designer of private practice websites, I love when a therapist comes to me with an outdated website with goals to grow their business.
The creative juices start flowing as we dissect why their current website isn't helping them reach said goals and what can be done to change that. That was definitely the case with Dr. Jarod Carter. We first worked with Jarod to redesign the website for his cash pay physical therapy practice, which you can read about here.
Jarod has built quite the community and following as an expert in marketing for cash pay physical therapists. With a thriving podcast and extensive content, Jarod is a go-to source for his audience.
When he approached us about redesigning his personal brand website, some growth was happening in his business, but it was clear that his website wasn't doing him any favors.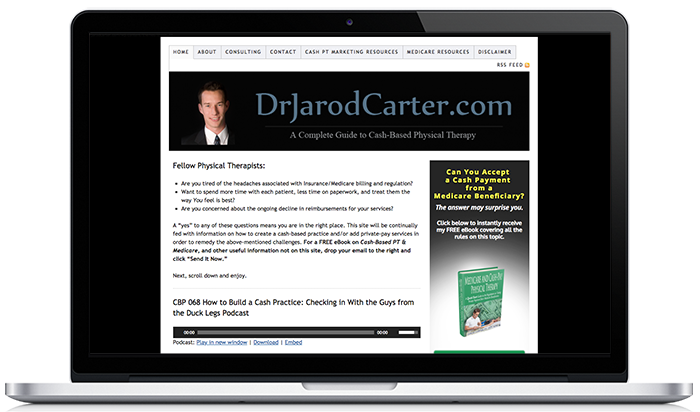 Even Jarod would admit, this website was extremely outdated and needed to overhaul from the ground up.
It was very text heavy and focused on the content, more like a library. Lots of great content, but not very inspiring, right? More like a place to do research instead of doing business, the opposite of Jarod's goals for his business.
Since Jarod's eventual goal would be to sell an online course, he needed a website that reflected his authority as an expert in the cash-pay physical therapy space.
Defining The Website's Main Goal For Strategic Design
Because of Dr. Jarod's desire for growth in his business (both revenue and impact), it was important to clearly define the main goal of his new website.
Having a podcast and amazing free resources for his audience meant that he was poised to really grow his email list in order to market his products and services well into the future.
So the main goal of the new website?
Increase conversions of people signing up for his email list. Knowing exactly what we wanted his users to do meant that I could be very strategic with the design of his new website. It meant thinking of new ways and opportunities for people to opt into his email list. We put simple opt-in banners in prime spots on his website.
We utilized third-party plugins like Opt In Monster to create dynamic popups that appear to certain users, especially those visiting the website for the first time.
Since launching the website, Jarod's email list has been growing at great rates than before.
The Importance of Good Photography for A Private Practice Website
Another aspect of this project that helped us reach Jarod's goals of a modern website that reeks of authority within his niche was Jarod's investment in good photography.
From the first moment a user lands on his website, you get a feeling of professionalism as well as connection when you see Jarod's face. His about page does a great job making him look professional and approachable with photos of his family.
We understand that a custom website is a huge investment in your private practice, but if you're serious about growth, investing in photography and copywriting IS going to give you that professional and creative edge. 
Before I get into what an amazing experience and result I had working with Daniel and Private Practice Elevation, let me give some background information… I've been a part of creating and managing the creation of multiple business related websites, and I have in the process worked with over a dozen web designers.
I hate to say it but in the world of web design, there seem to be far more 'Professionals' who do not act or perform professionally, and I have been sorely disappointed multiple times. I've also had some very good experiences along the way. But working with Daniel and the two websites he created for me goes so far beyond "good," I can't really put it into words.
But I'll try… Punctuality, expert guidance, never overpromising and always over delivering. I knew I could have found hundreds of designers on places like upwork.com who were willing to make these websites at a fraction of the cost. But the end result and the amount of time saved by choosing Daniel has paid for itself 100 times over. If you're reading this and thinking about hiring Daniel, read no more and debate no longer. He is incredible and your business will love you for choosing him."
Grow your private practice with a new website strategy.
Get more traffic. Get more clients. Scale your practice.