By Jesse Hallock
How well do you know yourself? Simple question. Often, it is an elusive answer. The reason I ask is that knowing yourself and your practice (in many ways an extension of yourself) is a KEY to how well you market and grow your practice.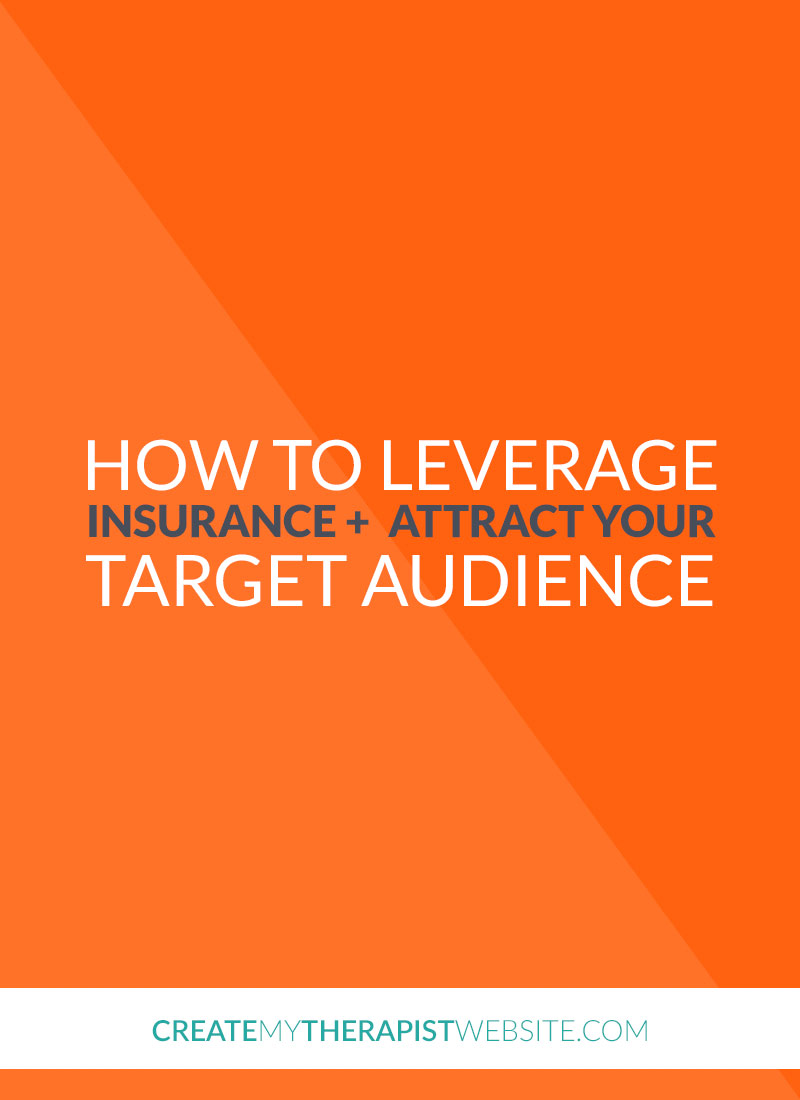 There are many things to know about your practice, but without a doubt one of the biggest questions that faces private practice owners is "Should I take insurance?"
Should I Take Insurance?
You have probably been asked, asked yourself, read blog posts, followed social media discussions and more on whether or not you should take insurance for your practice. I'll spare you exhaustive discussion.
Here are just a couple of reasons to take insurance from our experience:
You want a larger pool of clients to offer your services to.
You want more networks to connect through or get referrals from.
You feel drawn or called to a specific demographic.
You are willing to figure out the billing system on my own or hire someone else to.
There is also another option which is sometimes a little less known: Out-of-network.
Now, the advantage of being out-of-network is that you don't have to go through the credentialing process to be on a panel.
In some ways, this is the middle ground between a full cash-pay client and an in-network insurance client.
You can charge your full cash rate – but since the client does have insurance they will often get reimbursed for part of it so they don't have to pay the full cash rate.
How Do I Pick Insurance Panels for My Therapy Practice?
We'll keep this short and sweet.
There are a ton of options out there for panels. Our company has worked with successful practices that are in-network with about 40 insurance companies.
And we have worked with successful practices that are in-network with 1 insurance company.
Here are some things to consider as you think through this:
Which insurance companies have the most members in your area?
Which insurance companies reimburse best?
If you are called to a certain demographic, what is the most common insurance they use?
Are there large companies or industries near you that all offer the same insurance to their employees (this would include military bases and Tricare)?
What Does This Mean for My Private Practice Marketing?
What your specialties are, what your niche is, who your ideal client is, whether you take insurance at all, whether you're in-network or not – all of these and more come together to make up who your practice is (yes, who).
Knowing and being intentional about who you are and why will make a ridiculously huge difference in how you market your practice.
Your marketing should be an extension of yourself and your therapy practice.
It is the part of you that reaches out into the world as says, "This is me."
Successful marketing happens when the world reaches back and says, "That's me as well!"
It's when who you are, what you offer, and how you offer it connects with who a potential client is, what they need, and how they best receive it.
How Will My Therapy Website Help?
Every tiniest detail of your website can work for you as you work to connect with your ideal clients.
The color scheme, the fonts, the pictures, the layout – all of these, and more, are the 'non-verbal' communication, and we all know how important that is!
Then of course there is what is written, how it is written, and even what is intentionally not written.
The better you know yourself and your practice, the better and more clearly you can show "This is me" through your website (and the easier it will be for your designer to fit together all the tiniest details to make that a reality).
Here's where insurance and website intersect.
What insurances you accept or don't are part of who your target audience is.
The better you know yourself, the better you can market yourself.
The same is true with your clients – the better you know your ideal client, including their insurance experience, the better you will be able be able to connect with them through your marketing!
Part of knowing you target audience is knowing what questions they are coming to your website with. Everyone has questions they want answered before taking the next step. Remember that clarity builds connection.
So one of the best things you can do is foresee these questions and intentionally answer them on your site.
Here are some questions they are probably asking:
"This looks really great, but do they take insurance?"
"Are they in-network with my carrier?"
"How will I know if my plan covers this?"
"What do I do if they aren't in-network?"
There are many ways to answer these questions for clients and maintain the connection: you can have a section of a page that explains your network status, a separate page that talks about insurance, you can have an FAQ format to address questions, or something else.
Find a format that works well for you and provides clarity and confidence for your ideal client and you're set.
Remember, you want to bring together the real you and the ideal client.
You can "non-verbally" communicate through pictures, fonts, layout, and color scheme as well. You can communicate it SO WELL that when your ideal client visits your page, they will already feel and know – "This is me, this is what I have been looking for!" and the "verbal" communication that they read read through then serves to reinforce what they already feel.
Conclusion
Is there a right or wrong answer for taking insurance?
No. Definitely not.
But whichever direction you choose – you can make intentional decisions about how you will connect with your ideal client that will either work for you or against you.
Know yourself clearly, put yourself out there strategically, and make the difference you've been wanting to make!

About Jesse Hallock
Jesse Hallock is the Sales Director for Practice Solutions – a billing, credentialing, and consulting company for mental/behavioral health private practices. Practice Solutions serves practice owners around the country by working with them directly and also by openly collaborating with the top influencers in the industry to share our knowledge of, and experience with, the insurance billing world. To learn more or contact us, go to www.practicesol.com