One of the biggest website challenges therapists face is actually getting web traffic to their private practice website.
What's the point in even having a website if no one is viewing it right?
Well, in this post I'll share with you 10 FREE ways you can start driving traffic to your therapy website.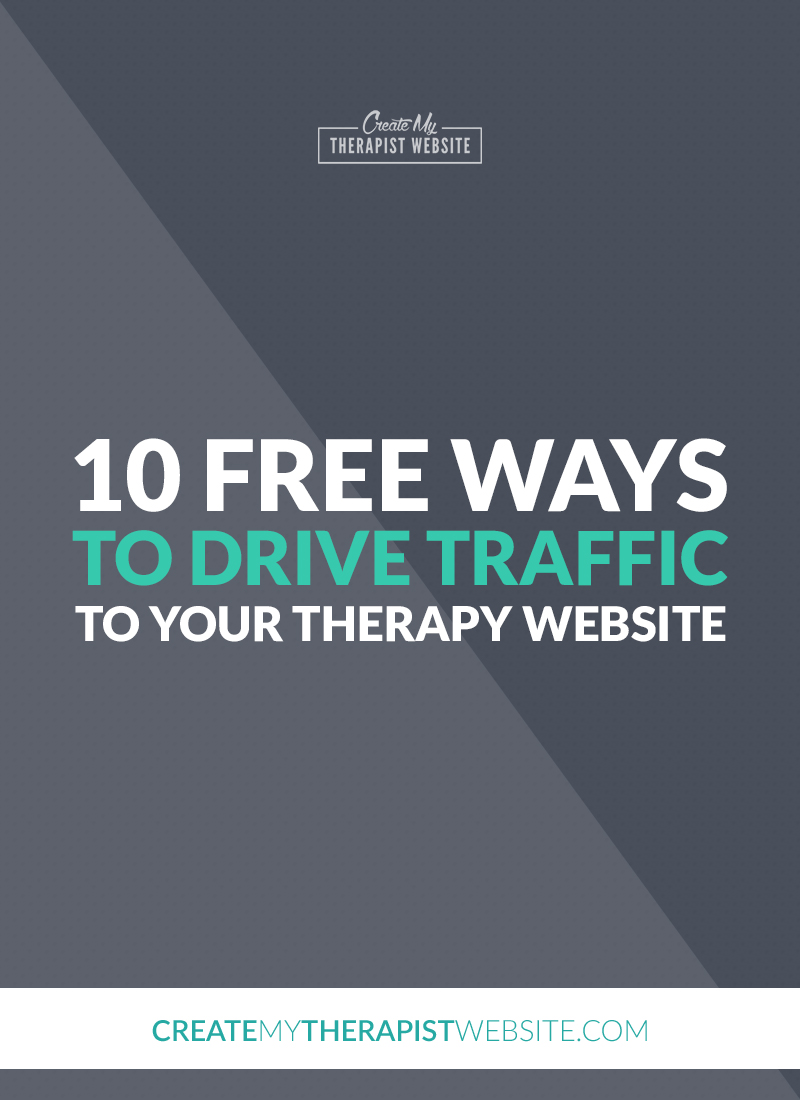 1: Create A Pinterest Pin For Each Blog Post & Pin It On Pinterest
Pinterest is one of my favorite ways to send free traffic to any website.
What's so great about Pinterest is that your pins go on forever.
So, at any time, someone can come across your pin and click on it and end up at your website.
It also acts just like a search engine, so if you create a pretty, pinable image and write a detailed description – with keywords of course – you'll increase your chances of being found.
Not using Pinterest to market your private practice? Check out my guide, here.
2: Put Your Website Link In ALL of Your Social Media Profiles
This one is super simple.
Each social media platform gives you a little space where you can include a link back to your website.
Instagram, Twitter, Facebook and Pinterest all have a place where you can put your private practice's URL.
Twitter: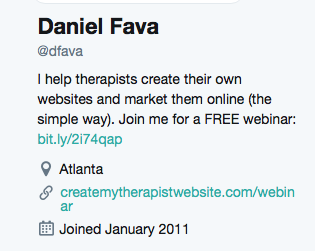 Instagram:

Pinterest: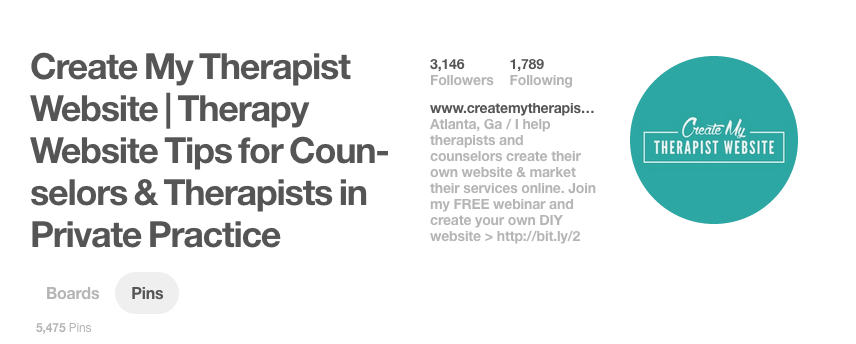 3: Put Your Link In Your Psychology Today (or other directory) Profile
A website is one of the best additions you can make to your online directory profile.
People want to learn more about you, see your practice and feel a connection with you.
That's often difficult to achieve in a Psychology Today profile.
Include your link so that people can take that next step, see your work and hopefully schedule that first appointment.
4: Create A Facebook Page For Your Private Practice
Having a Facebook page devoted to your private practice is another great way to get some free traffic.
It's also a great way to connect with potential clients and show your personality a bit.
Every time you post a new blog post, make sure to post the link on your Facebook page!
5: Comment on Blogs & Articles Related to Your Niche
If you have have a few influential people that have blogs that you follow, you can join in the conversations on their websites in the comments section.
Often, when you do this, your comment will contain a link back to your own website.
The key to doing this well is to not make it about getting a link back to your website, but to be truly helpful, engaging and generous with the info you share in the comments.
Don't just say "great post" and move on.
Posting a thoughtful response can help get you noticed and bring more traffic back to your website.
6: Guest Blogging
This one can get you a lot of great free traffic.
Similar to the tactic above, you can find other blogs/websites related to your niche and reach out to them about writing a guest blog.
This can get you in front of a whole new audience of people, make you look like an expert in your field and, of course, drive more traffic back to your website.
For tips on how to get started with guest blogging, check out this guide from Neil Patel.
7: Use SEO (Search Engine Optimization) On Your Private Practice Website
You can get a lot of free traffic from Google if your website and blog posts are optimized correctly.
There are a lot of different things that affect your page ranking in search engine results and it's good to be aware of these factors.
I like to keep things simple with my own blog, so that's what I like to teach.
For a list of some of the top factors that you can easily control with each web page or blog post you create, check out this post: On-Page SEO: How to Optimize Your Therapy Website Content for Search Engines
8: Create A Blog Post That Links to Experts In Your Niche
Sometimes called a "Round Up" post, this includes taking a topic and creating a list of experts in that area as a list of resources to your readers.
Often when you do this – and then let the person you've featured know about your post – they will be happy to share your blog post to their own audiences.
It's as easy as:
Pick a topic
Research all the people, websites and resources related to that topic
Write your blog post featuring those resources, making sure to link out to their website
Send an email to the person letting them know you've featured them and give them the link
This is a great way to network and meet new people as well!
This is exactly what I did with this post about private practice marketing websites: Building A Private Practice: The Best Websites to Help Grow Your Business
9: Put Your Link In Your Email Signature
Your email signature is another great place for you to place a link to your private practice website.
If you respond to emails from potential clients, it's a great way to reinforce your brand and make them aware of your website if they haven't already checked it out.
For instructions on setting up an email signature with Gmail, check out Google's instructions, here.
10: Be Interviewed on a Podcast
This is like doing a guest blog post, but taking it to a whole new level.
Being featured on someone else's podcast is not only a great way to drive traffic to your website, but it can introduce you to a whole new audience as an expert in your field.
It also gives you a chance to let your personality shine and allows people to feel connected to you and what you do.
Personally, I don't think it matters whether your potential clients will listen to these podcasts or not.
If you are featured on multiple podcasts, you can include a section on your website showing which ones, giving you some social proof and helping you look like an expert in your field.
So try and find a couple podcasts you think you'd be a good fit for and start a conversation with the host!
Conclusion
You don't have to rely on Facebook ads or Google Adwords just to get some traffic to your website.
You can use the above tips to make sure people can find your URL anywhere you appear online.
Some require more work than others (such as guest posts and podcast interviews) but will surely boost your "expert" status and help you create connections within your niche, which can have huge, long term benefits for your business.
Now, which TWO tactics are you going to implement this week? Let me know in the comments below!
[av_sidebar widget_area='Blog Post Resource Library Opt In' av_uid='av-2509oj']