If you've been thinking about getting started on a website for your private practice, you've probably heard of WordPress by now. But WordPress has two options for creating websites – one is found at wordpress.com and one is found at wordpress.org. What gives?
In this article we'll talk about the difference between wordpess.com and wordpress.org to help you understand which platform may be right for your therapy website.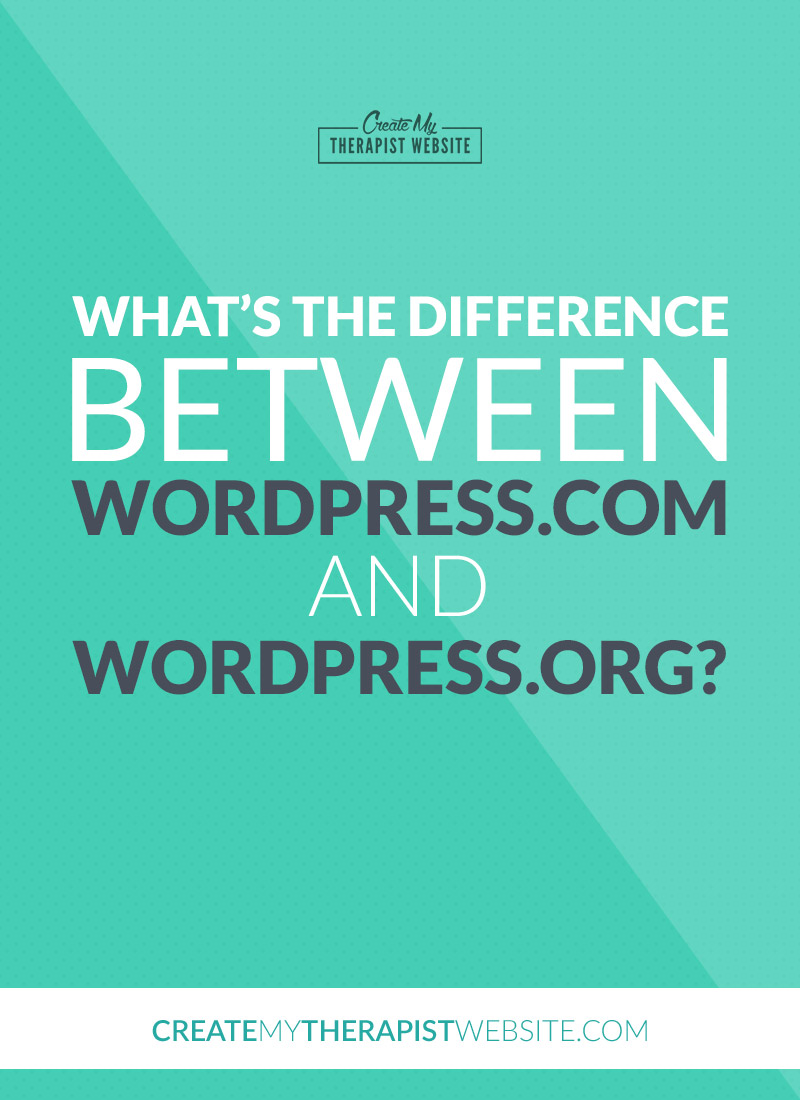 What is WordPress?
Let's start at the beginning… what the heck is WordPress anyway?
WordPress is what's known as a "content management system". It's the framework on which a website can be built.
It's all the code and functionality you would need to create web pages, upload images, write blog posts and other content and tie it all together into a website.
WordPress allows you to use various "themes" on top of this framework to make your website look a certain way to your viewers. Themes can change the colors, fonts and layouts of your website, while still using the same content-editing framework of WordPress underneath it all.
WordPress is both the most powerful and most popular blogging and website content management system. About 16 million websites are run on WordPress today. That's a lot!! (source)
Related: If you want to learn more about how to use WordPress, check out my beginner's course, A Little Course About WordPress here.
One Major Difference Between WordPress.com & WordPress.org
One of biggest differences between wordpress.com and wordpress.org lies in who is hosting your website.
For wordpress.com, they host all the files for you. You can sign up for a free account and start building your website in a few minutes. All the hosting is handled with their servers, you just sign in and go.
With wordpress.org, you can download all the files necessary to run the WordPress software (for free), then you upload those files to your own hosting server (like iPage or Godaddy) to create your website.
The Pros & Cons of Using WordPress.com for Your Therapy Website
Let's talk about the good and the bad of using WordPress.com to build a website for your private practice.
The Pros of Using WordPress.com
It's free. Who doesn't like free? With WordPress.com you get the functionality of a website and blog run on the WordPress software without having to pay for hosting.
All the maintenance is handled by WordPress. When updates to the WordPress software are released, they are automatically applied to your website and you don't have to worry about updating.
There are multiple themes to choose from. You can choose from a set of WordPress themes to customize the way your website looks.
Set up is quick and easy. Just start an account, fill out some initial info about your website and choose a URL (i.e. yourwebsite.wordpress.com) where you want your website to appear and you're on your way.
The Cons of Using WordPress.com
Your URL will contain "wordpress.com". When you set up your WordPress.com website, you're website's URL will be something like "mytherapysite.wordpress.com". To me, this looks unprofessional and may confuse your website viewers.
Paying for upgrades can become costly over time. The free starter plan has certain limitations, such as limited storage, WordPress ads on your website, limited amount of customization and the URL issue mentioned above. You can, however, remove these limitations by paying to upgrade your plan. If you want flexibility, you'll have to pay for it.
Limited amount of themes, plugins and customization. WordPress.com is limited to only the themes that they offer. Within those themes, you're also limited on the amount of customization you can do. If you have specific needs for your website, you may not be able to find a theme or plugin needed to do what you want.
Difficult to grow and adapt with your business. Similar to the previous point, WordPress.com is limited. You don't have the freedom to expand your website with new functions and customization as your private practice grows. You may need a simple website to begin with, but down the line you may want to add e-commerce, a scheduling plugin that ties into Paypal, etc. WordPress.com is limited to only the functions they allow.
The Pros & Cons of Downloading WordPress from WordPress.org for Your Therapy Website
As mentioned earlier, the alternative to creating a website via the free version of the WordPress software at WordPress.com is to download the WordPress software and then install it on your own web hosting server.
Let's talk about the good and the bad of going this route…
The Pros of Using a Self-hosted WordPress Website
It's still free. Using the WordPress software is still free when hosting the files on your own server. You just have to pay for the hosting account.
Your own custom domain name. When you sign up for a hosting account, (I recommend iPage (affiliate link)), a free domain is usually included and part of the set up. This gives you the chance to brand your website with a professional-looking URL.
No Ads. There will be no ads on your website when you self-host a copy of the WordPress software.
Cost can be about the same or cheaper than paying for WordPress.com upgrades. When you add up all the WordPress.com upgrades needed to give you the full flexibility, storage and customization you may want for your therapy website, it's often cheaper to host WordPress yourself.
Nearly unlimited amount of themes. WordPress is what's called "open source". Meaning anyone is free to create themes and plugins to work with the WordPress software. This means that there are thousands of options to choose from when picking a theme and adding new functionality to your website. For some great themes you can use with your private practice website, check out this post.
Freedom to grow with your business. Because there are so many themes and plugins that you can add to your website, you're only limited by your imagination. If there's something new you want your website to do, you have access to all the code behind the scenes, so you can always find a plugin or developer to make it work with your website.
Quick Installation. Because of the popularity of WordPress, most web hosting providers now offer "one-click installation". This means installing WordPress on your hosting server is just as easy as signing up for the free account at WordPress.com. For a guided tutorial on setting up a hosting account and installing WordPress, check out this post.
You own everything. If you want to move your website to a different web host, or want to backup your database, you have the freedom and access to do what you want/need with your information.
The Cons of Using a Self-hosted WordPress Website
Extra responsibility. Because WordPress is hosted on your own server, you're responsible for keeping the software, along with any themes and plugins, up to date. This is often as simple as clicking a button, but problems do arise when updates conflict with plugins and themes.
Steeper learning curve. Because you have full control and access to all the settings, there's the potential to get overwhelmed by it all. More time will be required on the front end to understand the WordPress dashboard and how to edit your website.
Things can break. Because there are more moving parts, you can potentially break your website when making updates or changing the wrong settings. Creating backups of your website and having access to customer support via your hosting provider becomes more important.
Conclusion
WordPress remains the most powerful and most popular platform on which to build any website. It can especially be a great way to create a professional-looking, flexible private practice website and give you the ability to update your website yourself.
Because your therapy practice may evolve and grow as you refine your business, I recommend the freedom of creating a WordPress website using the self-hosted option found at WordPress.org.
If you'd like to get started with WordPress, check out this step-by-step tutorial I created. It will show you how to set up your hosting account, domain name and install WordPress.
Ready to REALLY dive into WordPress? Check out my training, A Little Course About WordPress.