WordPress plugins are an amazing way to add new features, increase security and truly customize your private practice website. In this post, I'll share some of my favorite plugins and how they can improve your therapy website.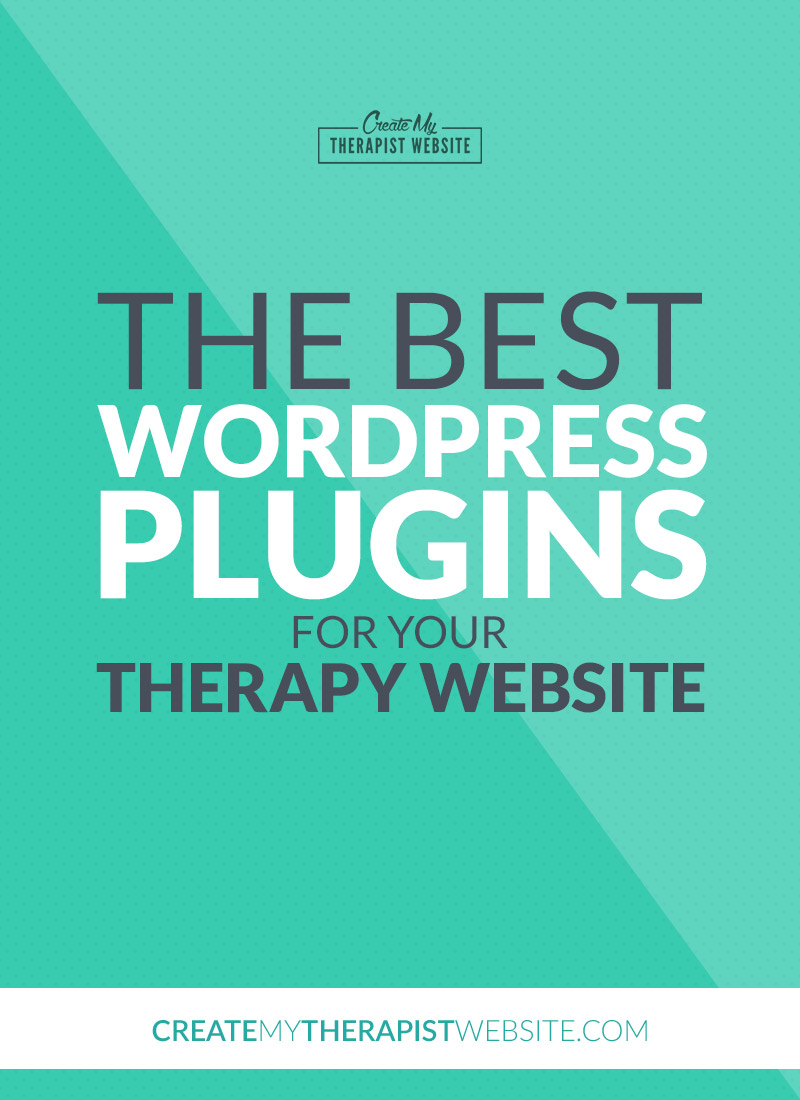 What Are WordPress Plugins?
First off, what the heck are WordPress Plugins?
A plugin is a collection of files that can be uploaded within WordPress, to perform a specific task.
If there's something you want to do with your therapy website that's not present in the basic WordPress setup or your WordPress theme, chances are a plugin can help you achieve it.
Adding an online store to your website would be a great example.
A basic installation of WordPress does not allow you to display products easily or accept payments.
But an e-commerce plugin, such as WooCommerce, can give you everything you need to create products, send email receipts and accept payments – everything you'd expect an online store to do – right within your WordPress website.
My Favorite WordPress Plugins
Below are the plugins that I personally use the most and recommend for any private practice website.
GM Block Bots
If you have Google Analytics installed on your website, and you're tracking where your traffic is coming from, chances are you've seen lots of spam websites sending you a good chunk of your traffic.
The problem with this is that it can skew your numbers, making you think you've had a lot of pageviews and people viewing your content, when in reality, it's just spam traffic.
Here's a snapshot of some spammy websites that were showing up in my Google Analytics:

Not the type of traffic you want.
GM Block Bots filters out that spam traffic and let's you see a more accurate picture of your Google Analytics data.
This way you can truly understand where your traffic is coming from and how many visitors were real people.
The best part about this plugin is you can set it and forget it. Install it once and you don't have to mess with any settings.
However, it is good to keep it updated, as they continue to add new spam websites to the list that the plugin blocks.
W3 Total Cache
I'll admit that I don't fully understand the entire technical scope of what W3 Total Cache does. Because it does a lot!
But the basic function it serves is to speed up your website by making all the code easier for browsers to load.
If you feel like your website is not performing well and taking a while to load, you'll want to check out this plugin.
If you do install it, there are some basic settings you'll want to make sure get right, so check out this article here.
Just a warning: I've seen this plugin conflict with some other plugins and make other parts of a website get a bit wacky.
If you install it and run into issues, disable the plugin from the WordPress plugins area of your dashboard.
If something goes really wrong and you can't log in to WordPress (it's rare but it's happened!), use your website's control panel (with your hosting provider) to delete the plugin and try another caching plugin, such as WP Super Cache.
SumoMe
I love this plugin and I love this company!
Heck, I even wrote an entire blog post about it and how you can use their social sharing tools to boost your blog's visibility.
This plugin is really more like a suite of plugins.
While they have different levels of customization that you could pay for, I've been just fine with the free version.
I (and my wife, the therapist) mainly use SumoMe for their Share plugin, which puts a stylish bar of social media icons on my blog, so readers can easily share it with their networks.
If you're on a desktop computer, you'll see it on the left side of this blog. On mobile you'll find it at the bottom of the screen.
It lets me choose how it looks, where on the page it's located, and if I want to hide it from certain pages entirely.
List Builder is another great plugin within this suite of plugins.
This is a great way to help you build an email list, if that's part of your online marketing.
Just like the Share bar, List Builder lets you control the location and visibility of a pop up or slide-in box that you can connect to your email marketing service, like Mailchimp.
Another way of growing your email list is with their Smart Bar.
This plugin places an opt-in bar across the top of your website, only showing it to those who haven't seen it yet.
You can check out all of SumoMe's capabilities on their website here.
Yoast SEO
If I could recommend just one WordPress plugin, I think this would be the one.
Yoast SEO has become somewhat of the industry standard for SEO plugins.
What I love about this plugin is that with every page or blog post your create, it gives you an idea of how well (or poorly) your page will perform in search engines.
All you have to do is set a keyword for the page or post you're working on, and Yoast SEO will give you a score and let you know a few ways you could improve your search engine optimization.
It will also let you know where should put your keyword to boost your SEO potential.
Here's a screenshot of what it's showing me as I'm working on this blog post. You can see I still have some work to do!: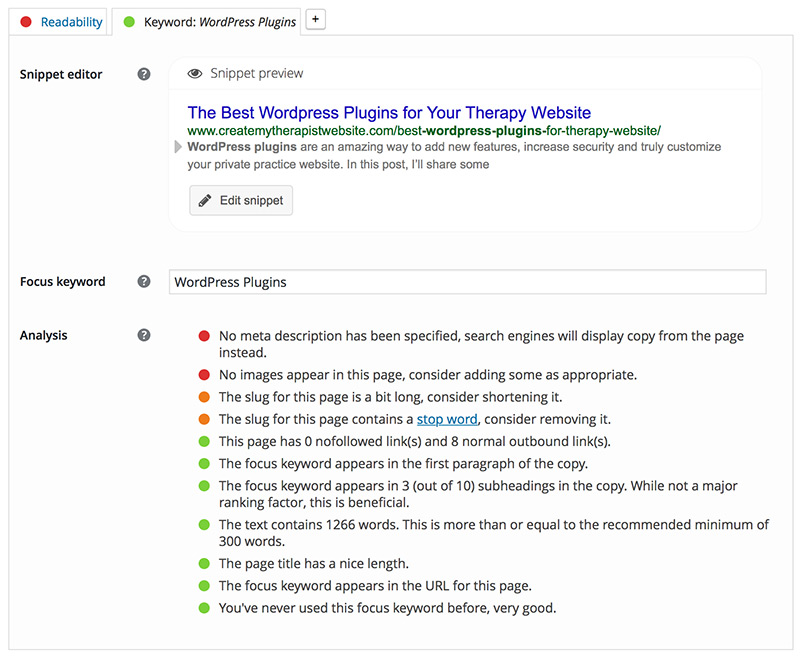 UpdraftPlus – Backup/Restore
UpdraftPlus takes the stress out of backing up your WordPress website.
Let's face it, things can go wrong with your WordPress website.
Plugins can get screwy and updating WordPress itself can potentially conflict with your theme.
Things happen.
So, it's always good to have a backup of your website's files and the database, should you need to revert back to a previous version.
That's what UpdaftPlus does.
Within the plugin, you can tell it how often you want to back up your website, and where to save it to.
I really like that I can save my backups to DropBox, giving me easy access to files should I need them.
When it comes time (hopefully you won't need to) to restore a website, just choose your backup and let the plugin do its work to get you back on track.
Limit Login Attempts
Limit Login Attempts is a super simple one that gives you a boost of security to your private practice WordPress website.
Hackers like to break into websites to gain control over them. That's just what they do.
One way they do this is by using code that will try combinations of usernames and passwords until it finds the right one.
Then they have control to do what they want.
To combat this, Limit Login Attempts does just what the name implies. It allows you set a limit to the amount of times someone can try and log into your WordPress admin area.
Your pretty much just set the limit and then don't worry about it.
Do make sure you have your WordPress log in credentials saved, because if you forget them, you could end up not just keeping the hackers out, but yourself!
Conclusion
So that's a roundup of my favorite WordPress plugins you can use to improve your own therapy website! Do you have any favorite plugins that you use on your own website? Let me know in the comments below.
[av_sidebar widget_area='wordpress course' av_uid='av-36ocki']