Using SEO Content To Improve Organic Traffic by 598% in Six Months
Dr. Charles Mike Rios & Developmental Pediatrics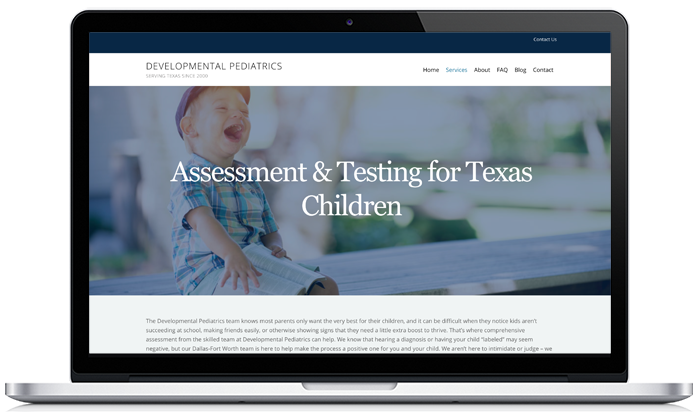 When the pandemic hit in 2020, Developmental Pediatrics took their services online. Their ideal client was now found in the entire state of Texas, however, their website was never optimized beyond their office location. They needed more website traffic from a broader geographic region.
The Challenge:
Dr. Charles Mike Rios is a developmental pediatrician in the Dallas Fort Worth area. When the pandemic struck in 2020, he realized that he needed to diversify his client base and reach more people with online services.
Like many health service providers, he made the switch to offering online appointments to continue providing services.
The great news was that Dr. Rios now had an opportunity to reach the whole state of Texas with his developmental pediatric services.
The challenge though was that his website was not optimized for folks searching for his services throughout his state.
He had a foundation of traffic coming from the Dallas Fort Worth area, but if he wanted to reach beyond his local area, he was going to have to do some work on the website so that more people could find it in search engines.
Our SEO Strategy:
Like many private practices that come to us for SEO help, Developmental Pediatrics was short on the most important part of any SEO strategy: optimized content.
They had a basic website that had the minimum of information to let clients know what they did. This included the homepage, an about page, three service pages, FAQ and contact page.
We knew we needed to expand this content if we wanted to start getting more traffic to the website.
So we applied our SEO Traffic Accelerator, which is part of our Client Accelerator System that helps to elevate each part of private practice's online presence. 
Because the website lacked any blog content at all, we set up a blog landing page on the website in preparation for the SEO content we were going to write for the website.
And this was the key to reaching a broader audience outside of Developmental Pediatrics' local area – focusing on the questions their ideal clients were asking rather than search terms related to "pediatrics in Dallas".
One of the key terms that Dr. Rios wanted his website to rank for was "autism diagnosis". 
Because there wasn't much content related to this topic, it was a great place for our SEO writers to start. So that's what we did!
For over a year, we've been writing 2 SEO articles each month related to diagnosing autism and developmental pediatrics. 
We know that parents have many questions related to their children's development and autism, so our focus was to create helpful content related to those topics.
Another thing we did at the same time was to build backlinks to help amplify these new articles, along with some of the current pages on the website. This would help Google understand the content and see the keywords more quickly while also sending authority signals to help it rank higher.
Getting Our Metrics Right to Track Progress
Another missing part of Dr. Rios SEO strategy was the lack of tracking they were doing on the website.
When we first took on this project, they didn't have Google Analytics set up, nor were they tracking any keywords.
This meant they didn't know how their traffic currently stood, where people were coming from and what keywords they were using to find them.
We set them up right away with our Website Scorecard (the final step in our Client Accelerator System) by installing Google Analytics, Google Search Console and then giving them a simple dashboard where they could monitor their progress in real-time.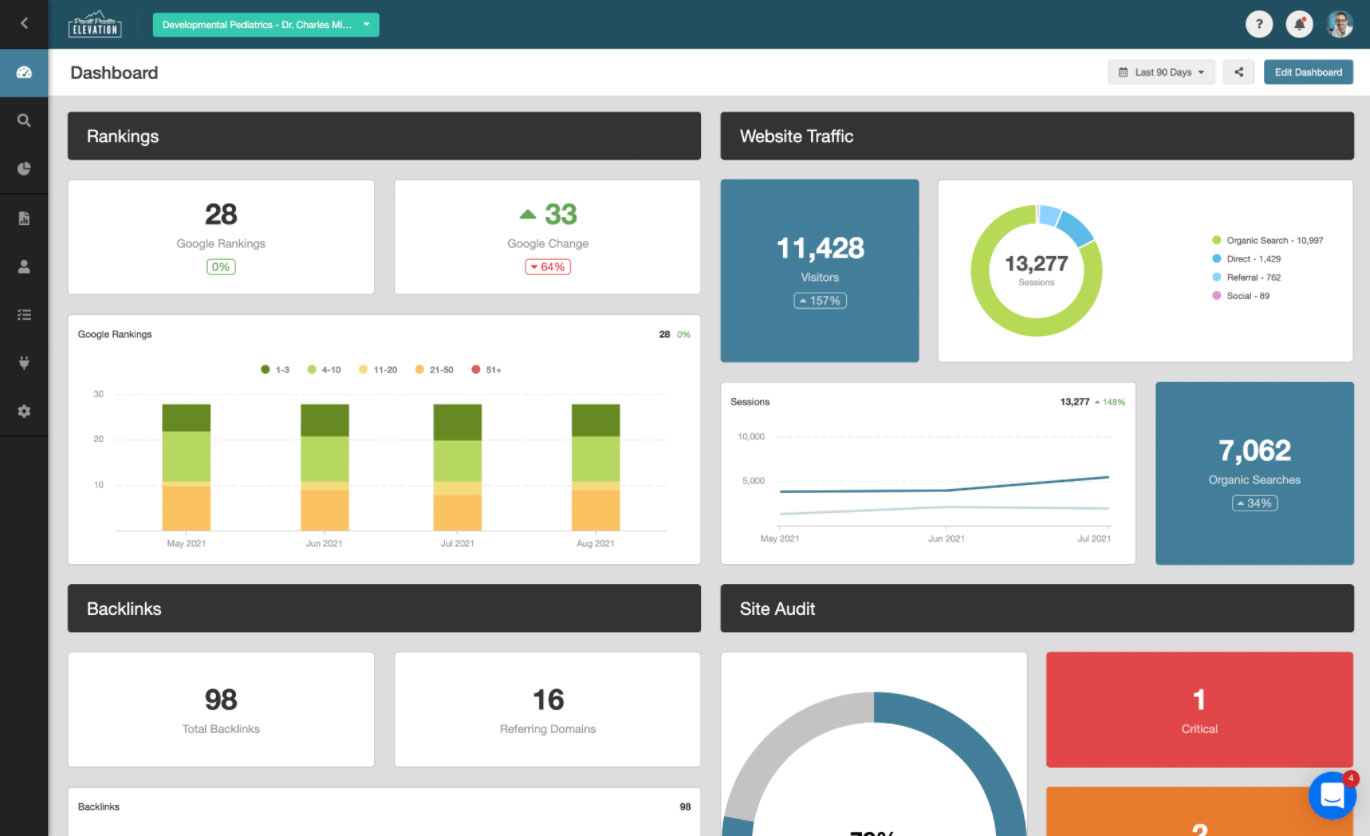 SEO has many moving parts and rankings can change each month. That's why when we monitor or SEO campaigns we like to look at the cumulative effect on the rankings and traffic over a few months.
At the time of writing this case study, we have been serving Dr. Rios with our monthly SEO work for over a year now. This gives us lots of data to look at.
And I'm super excited when I see the results of the work we've been doing.
When we began, Dr. Rios's website had one page about autism diagnosis and it wasn't ranking well. Now his website is chock full of helpful content that's ranking in search engines and bringing him traffic each month. 
Some highlights:
A Guide to the Signs of Autism in Infants (Blog Post):
Received 9,231 pageviews from February to August 2021

At time of writing, ranks #7 for "newborn signs of autism", a term that gets 1,900 searches per month
How Early Can An Autism Diagnosis Be Made? (Blog Post:
Received 1,916 pageviews from February to August 2021

At time of writing, ranks #2 for "at what age can autism be reliably diagnosed" which is search for 140 times each month
Improved Traffic Over Last 6 Months:
What's so cool about SEO and ongoing content creation is that it's the tide that raises all ships. If you can rank your website higher for the right keywords, even if that's a blog post, traffic to your other pages will increase as well:
A 159% increase in traffic to the homepage

– from 3,447 pageviews to 8,958

A 39% increase in traffic going to the contact page

– from 1,743 pageviews to 2,429

A 68% increase in traffic to their new patient page

– from 898 pageviews to 1,513

A 93% increase in traffic to their services landing page

– from 727 pageviews to 1,404
And the simplest metric to test our work? The amount of organic search traffic hitting the website. Which blows my mind: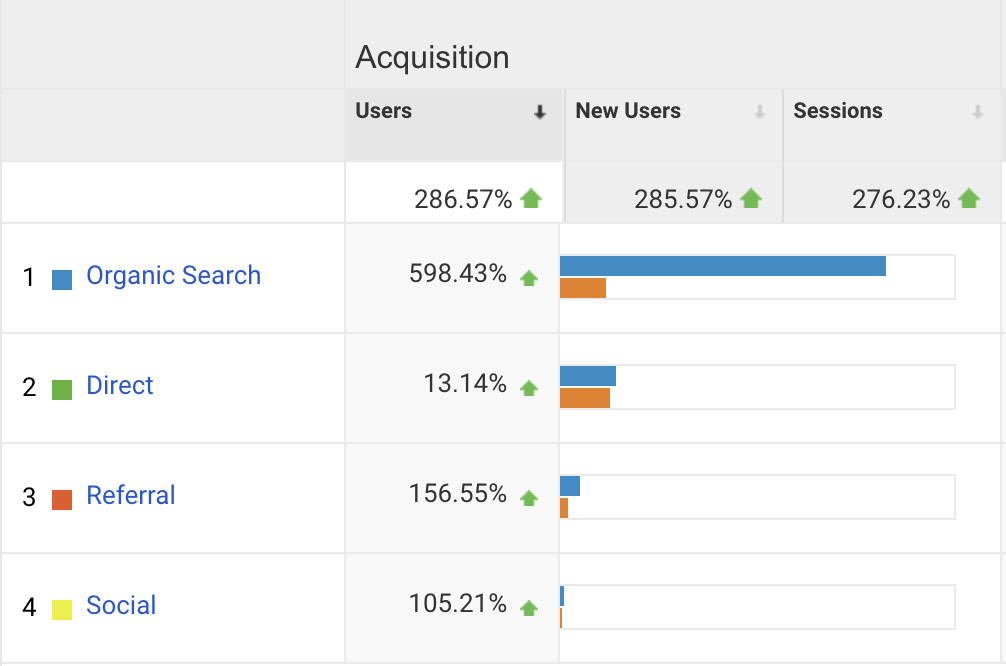 The main reason for Dr. Rios coming to us was to reach more people throughout the state of Texas so that he could see more clients online.
Looking at the analytics shows that we continue to hit that goal as well: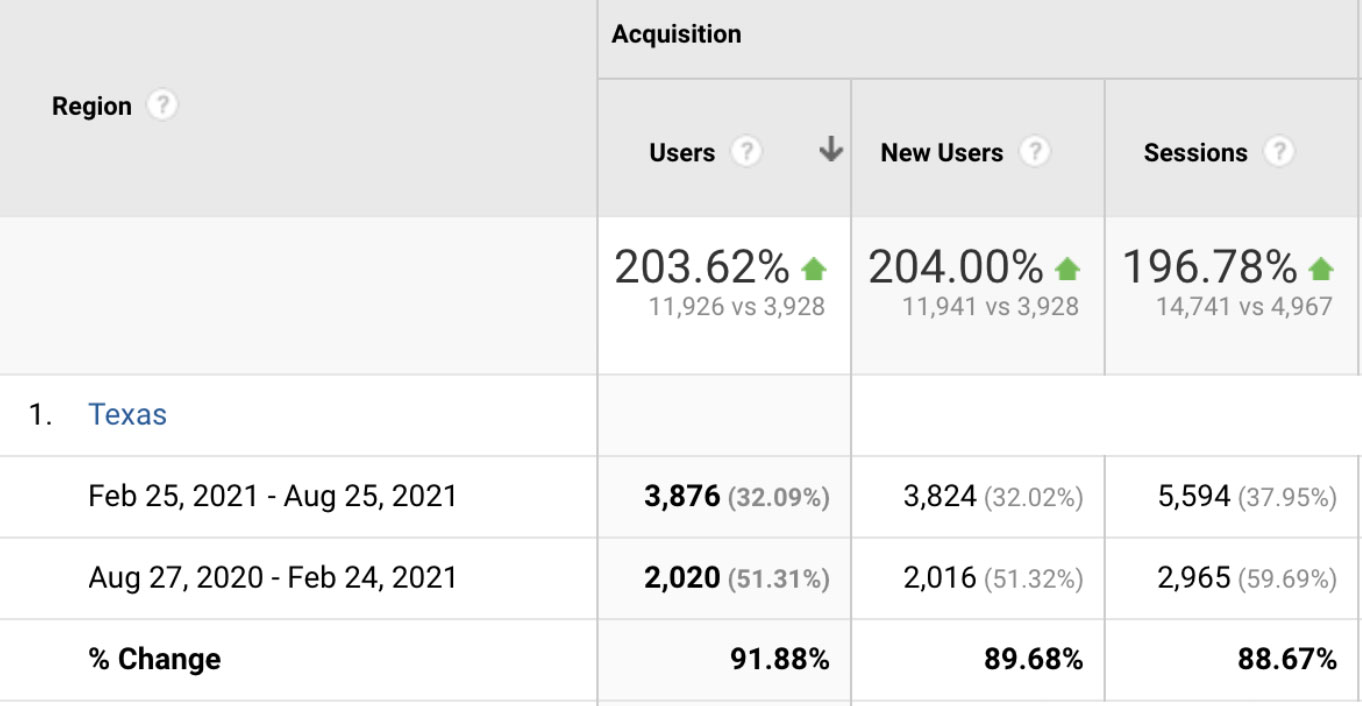 Are You Ready to Get More SEO Traffic?
If you haven't been happy with the amount of organic traffic your private practice website receives, we'd love to help.
Sign up for a monthly SEO Traffic Accelerator plan or schedule a 15-minute call to see if our SEO services are right for you.