In this special SEO Quick Tip episode, we will be discussing the importance of optimizing your titles and meta descriptions on your website. 
These elements play a crucial role in on-page optimization, helping your website rank higher for the keywords you are targeting. 
In this episode, we will explore the best practices for crafting effective titles and meta descriptions, and how they can impact your search engine rankings.
Your title tags and meta descriptions are the very first thing that users will see in those Google search results. It's not only important to optimize them so that you improve your ranking, it's equally important to make them enticing to users.
We want people to go from Google to your website right? 
Well, listen up as we break down these crucial SEO factors and give you a quick rundown on titles, meta descriptions and how you can optimize them.
In This Episode, You'll Learn:
What are titles tags and meta descriptions

The importance of optimizing titles and meta descriptions on websites

Best practices for creating optimized title tags for your website to help boost search engine rankings

Tips for writing great meta descriptions to help your SEO
Free Live Workshop: Thursday, September 7, 2023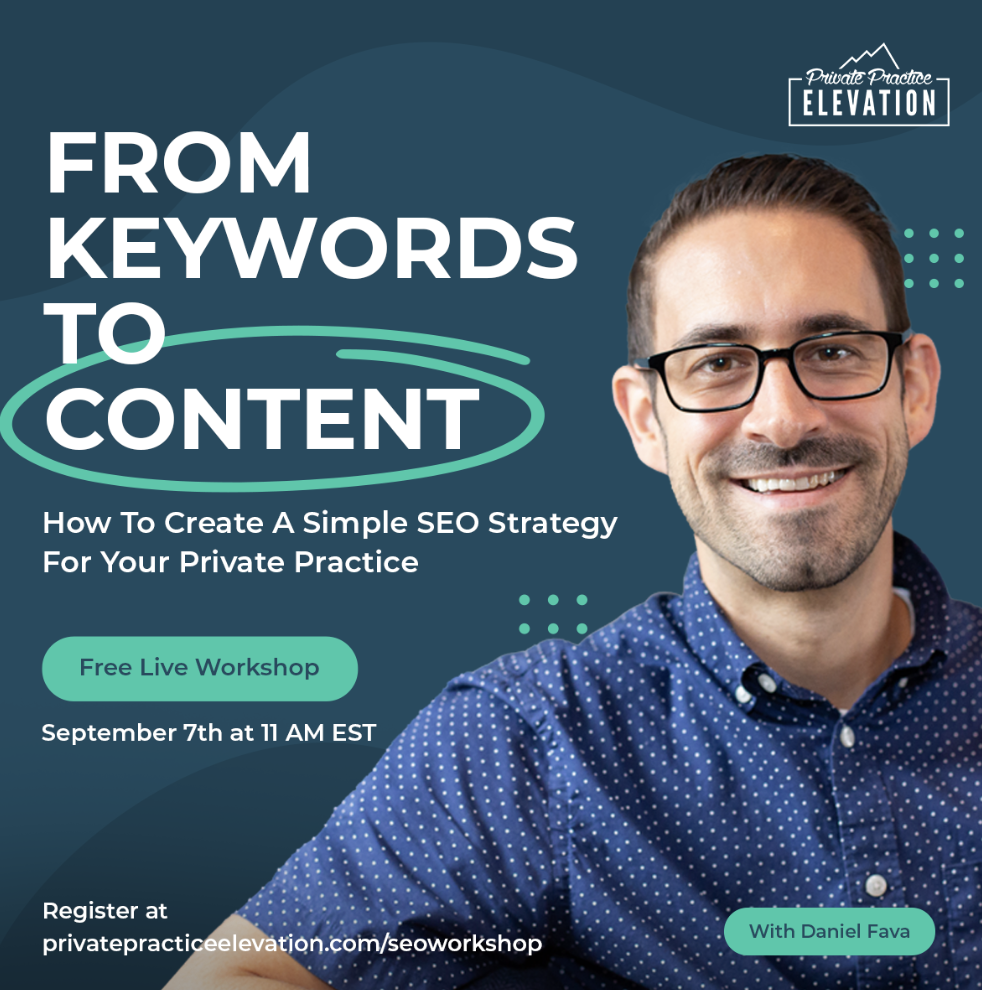 CLICK HERE TO RESERVE YOUR SEAT.
If you've struggled to get your website ranking for your keywords, or just need some help putting all the SEO pieces together, I want you to join me for this workshop.
In this hour-long webinar, I'll show you:

The top

5 mistakes therapists make

when trying to DIY their SEO

The

4 things you need

in place in order to create a holistic SEO strategy for your private practice (most people only focus on 1!)

Tips and tools to

assess your website's current SEO

performance so that you have a baseline and real data to build your SEO strategy upon

Simple keyword research:

how to find and evaluate the best keywords

for your practice so you don't waste time optimizing for terms your ideal clients aren't using

How to begin

creating content that improves your SEO

, grows your traffic, and generates more clients

PLUS live Q&A to help you with your specific SEO questions
Episode Summary:
In this bonus episode, Daniel Fava shares quick tips for optimizing titles and meta descriptions on websites. He explains that the title and meta description are crucial for on-page optimization and improving search engine rankings. Without customizing these elements, Google may pull irrelevant information from the page, making it difficult to rank for specific keywords.
Daniel provides best practices for title tags, including using a unique, descriptive, and compelling title that includes the focus keyword. He suggests placing the focus keyword at the beginning of the title and using separators like vertical lines or hyphens to separate different elements. Additionally, he advises keeping title tags under 60 characters and capitalizing them for better visibility in search results.
For meta descriptions, Daniel recommends using full sentences that clearly describe the page's content and how it can solve a problem for potential clients. He emphasizes the importance of including the focus keyword and using an active voice. Adding a clear call to action, such as "learn more" or "schedule a free consultation," can also improve click-through rates. Meta descriptions should be less than 160 characters to avoid being cut off in search results.
Daniel concludes by inviting listeners to a free live workshop where he will share strategies for getting more organic traffic to websites. 
Subscribe & Review in Apple Podcasts
If you're not yet subscribed to the podcast I want to encourage you to do that today. This is the best way to make sure you don't miss an episode! Click here to subscribe on iTunes.
And if you're feeling extra generous, I'd love to hear what you think about the podcast. Reviews help others find the podcast plus I'd really love to hear what you think! Click here to leave a review. Just click on "Ratings & Reviews" then "Write a review." Let me know what you like best about the podcast. Thank you!