In this week's podcast episode, you're going to learn about 5 important pillars of your life that you'll want to wrangle to help you balance your private practice with the priorities in your life.
So, how many times have you heard the phrase, "work-life balance"?
It seems like something we hear a lot about, especially as entrepreneurs.
I think it's because it's something we all truly crave, deep down; to be doing work that we love without excluding the other parts that make our lives uniquely and beautifully ours.
I know it's something I've struggled with.
My wife and I both own our own businesses (she's got a private practice and I've got this here online marketing for therapists business) so life can tend to get a bit off-kilter as we grind out a routine of work, babysitters, family time, meal-planning, etc.
The problem is that we often tend to get on this cycle where we're trying to give all the buckets of our life the attention we think they need, but without stopping to assess, evaluate and pivot from time to time, balance can feel pretty far off.
If you're feeling like your private practice has taken over your life and things are a bit out of whack, give this episode a listen!
To help you get started working toward a work-life balance that feels good to you, I chatted with my friend, Allison Puryear from Abundance Practice Building.
Allison is an LCSW who has started practices in three different cities throughout the course of her career.
Currently, Allison and her partner own 3 businesses between them both while still making time for their family of four.
Allison has learned a thing or two about balancing it all and I know the wisdom she brings on this topic will help you find new ways to create balance in your own life.
In This Episode, You'll Learn:
The five main pillars of life and business that you'll have to keep in check in order to create more balance in your life
Stories from the trenches of private practice and business ownership and how balance is a journey we're all learning to walk out
Structures and boundaries you can put in place to make sure you able to do the things that are most important to you
Real-life examples you can apply to your own life, this week, to start eliminating some stress
Allison's secret tip for always writing therapy notes on time
Inspiration knowing that it's possible to get off the treadmill, take care of yourself and love your family well
Click here to listen to my interview with Allison Puryear on iTunes.
This Episode Is Brought To You By Our New Free Ebook!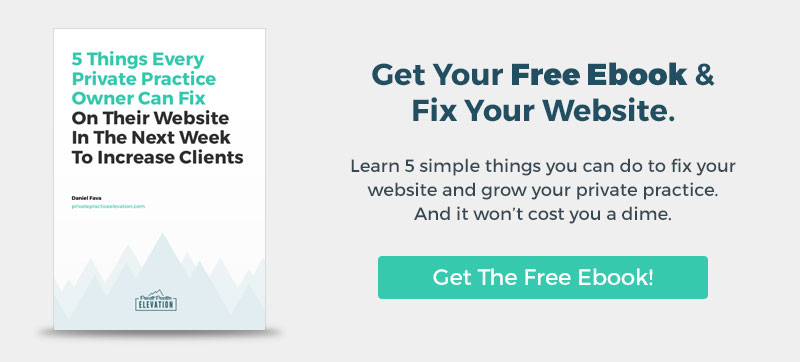 About Allison Puryear
Allison Puryear is an LCSW, CEDS with a nearly diagnosable obsession with business development. She has started practices in three different states and wants you to know that building a private practice is shockingly doable when you have a plan and support. She teaches everything you need to know about building a private practice in the Abundance Party, where you can get practice-building help for the cost of a copay. You can download a free private practice checklist to make sure you have your ducks in a row, listen in on consultations and interviews on the Abundant Practice Podcast, and hop into the free Facebook Group full of over 16,000 other clinicians in private practice. Allison is all about helping you gain the confidence and tools you need to succeed.
Subscribe & Review in iTunes
If you're not yet subscribed to the podcast I want to encourage you to do that today. This is the best way to make sure you don't miss an episode! Click here to subscribe on iTunes.
And if you're feeling extra generous, I'd love to hear what you think about the podcast. Reviews help others find the podcast plus I'd really love to hear what you think! Click here to leave a review. Just click on "Ratings & Reviews" then "Write a review." Let me know what you like best about the podcast.
Thank you!