In this episode of The Private Practice Elevation Podcast, we will explore the journey of Chris McDonald, a licensed therapist and holistic practitioner, as she built her private practice. 
We will delve into the challenges she faced, the strategies she employed, and the impact of integrating holistic modalities into her therapy work with clients.
Chris embarked on a journey to build a holistic therapy practice after leaving her job as a school counselor. With a passion for holistic modalities and a desire to integrate them into her practice, Chris set out to build a private practice that would cater to clients seeking a different approach to therapy, as well as fulfilling her own passions.
Listen to her journey about how she created a practice that was authentic to her and the strategies she uses to market her holistic therapy practice.
In This Episode, You'll Learn:
How networking and consultation groups can provide a stream of referrals in your holistic therapy practice

How incorporating holistic modalities into therapy can attract clients who are seeking a different approach

The importance of your website's about page and how you can talk about what you do in a way that helps you stand out from other therapists
This Episode is Brought To You By

Alma is on a mission to simplify access to high-quality, affordable mental health care by giving providers the tools they need to build thriving in-network private practices. When providers join Alma, they gain access to insurance support, teletherapy software, client referrals, automated billing and scheduling tools, and a vibrant community of clinicians that come together for education, training, and events.
Alma gives clinicians the tools they need to build thriving private practices. When you join their insurance program, you can get credentialed within 45 days, and access enhanced reimbursement rates with major payers. They also handle all of the paperwork, from eligibility checks to claims submissions, and guarantee payment within two weeks of each appointment. 
In addition to their insurance program, Alma offers timesaving tools and administrative support — so you can spend less time on paperwork, and more time delivering great care to your clients. 
Learn more about building a thriving private practice with Alma at helloalma.com/elevation. 
Links mentioned in this episode:
About Chris McDonald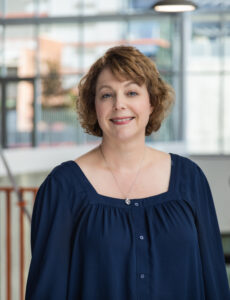 Chris McDonald is a Holistic Therapist, Yogi, Meditation Teacher, Podcaster and Author.   She owns a group online practice called "Path to Hope Counseling". She is a 200 hour RYT, is Certified in Brainspotting and offers gentle yoga to clients in session, and offers private yoga sessions. She specializes in treatment of anxiety, depression, trauma and grief in young adultsShe is a Meditation Teacher on the Aura app and Insight Timer.  She is host of the podcast "The Holistic Counseling Podcast."
Key Takeaways:
The Importance of Building Relationships and Connections
"Building relationships with other therapists in the community is the number one way to help yourself and find people who are similar to you." – Chris McDonald
Chris emphasizes the significance of building relationships and connections with other therapists in the community. By forming alliances and referring clients to one another, therapists can support each other's practices and create a sense of community. This approach not only fosters collaboration but also helps therapists find their niche and attract clients who resonate with their unique approach.
Embracing Online Therapy and Video Sessions
"I thought, wouldn't it be cool to be able to do this online, to be able to counsel people online while I have time off?" – Chris McDonald
Chris recognized the potential of online therapy early on and began offering video sessions before it became popular. This decision allowed her to reach a wider audience and provide therapy to clients during her time off from the school system. By embracing technology and adapting to the changing landscape of therapy, Chris was able to expand her practice and connect with clients in a convenient and accessible way.
The Power of Authenticity in Marketing
"The more I put myself into my web page and marketing and who I am, the more I'm connecting with clients who are interested in this approach." – Chris McDonald
Chris discovered the importance of authenticity in marketing her practice. By embracing her identity as a holistic therapist and integrating her personal beliefs and practices into her website, she attracted clients who resonated with her approach. Her About Me page became a powerful tool for conveying her unique offerings and connecting with potential clients who were seeking a different kind of therapy.
Integrating Holistic Modalities into Therapy Sessions
"I provide hands-on tools as well. So I'll teach them, for example, a breathwork practice. We'll do it together, and then that's their homework to start practicing that." – Chris McDonald
Chris's holistic approach to therapy involves integrating various modalities, such as breathwork and movement practices, into her sessions. By providing clients with practical tools and techniques, she empowers them to take an active role in their healing journey. 
This hands-on approach not only enhances the therapeutic process but also allows clients to continue their practice outside of therapy sessions, promoting long-term growth and well-being.
The Importance of Self-Care for Therapists
"I love learning more about holistics, so I got to research and learn some more ways to build routines in my day." – Chris McDonald
Recognizing the importance of self-care, Chris prioritizes her own well-being and integrates holistic practices into her daily routine. By practicing yoga and engaging in mindfulness activities, she regulates her own mental and emotional state, ensuring that she can show up fully for her clients. 
Chris's commitment to self-care serves as a model for other therapists, inspiring them to prioritize their own well-being and establish healthy routines that support their professional and personal growth.
Implications and Potential Impact
The journey of Chris McDonald highlights the potential impact of embracing holistic modalities in therapy and building a practice rooted in authenticity and self-care. By integrating these approaches, therapists can attract clients who are seeking a different kind of therapy and provide them with practical tools for healing and growth. This shift in the therapeutic landscape not only benefits clients but also empowers therapists to find fulfillment in their work and create a practice that aligns with their values and beliefs.