In this episode of The Private Practice Elevation podcast, we're switching gears from talking about marketing and practice building to focusing on one thing that can impact your performance in just about everything you do: your sleep.
How would you rate the quality of your sleep?
Do you consider sleep an integral part of your physical health as well as your mental health?
I don't know about you, but when I don't get enough sleep (or enough quality sleep) it can throw off my entire day.
I'm less motivated and less productive, and my creativity and joy seem to falter.
Sleep is extremely important to me because I've seen the impact it can have on my daily life.
I'm also a very light sleeper so I have to go through a lot of measures to ensure an optimal sleeping environment.
So, as one who's nerded out on ways to sleep better before, I'm super excited to talk about sleep on the podcast.
Today we're speaking with Terry Cralle, MS, RN, a Registered Nurse based in Washington, DC, and an expert on sleep health.
Our conversation covers a ton of topics from how to get better sleep to the positive impact that great sleep can have on your quality of life and your clinical work as a therapist.
If you'd like to get better rest, listen up.
In This Episode, You'll Learn:
The suggested number of hours of sleep you should be getting each night
The common misconceptions about sleep and how much you need
How the lack of sleep can be tied to so many issues including physical, health, and mental
Tons of tips for improving your sleep
What to do when you wake up in the morning but don't feel well rested
Why having a nighttime routine is so important to a good night's sleep and some of the things you should and should not be doing to help set you up for sleep success
When you should reach out to a sleep expert to better understand why you're not consistently getting a good night's sleep
Links mentioned in this episode:
Growing a caseload of clients you're passionate about working with can help you build a career that's both impactful and sustainable. But it's often easier said than done — which is why Alma has created a guide to help you identify and connect with clients who fit your practice.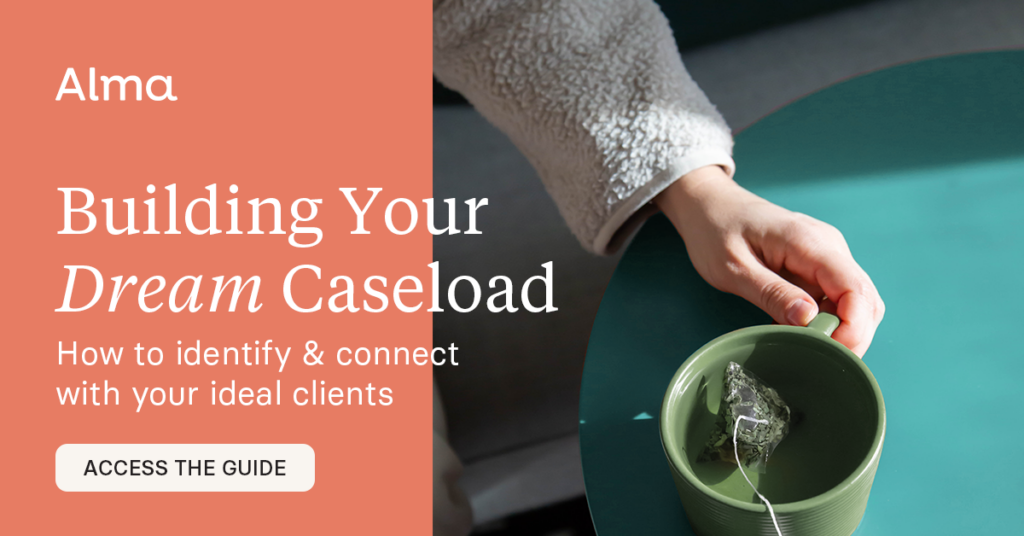 What's inside?
Understanding client compatibility
Identifying your niche
Defining what makes you uniquely qualified
Attracting ideal clients
And more
For additional information Alma and how they support clinicians, visit helloalma.co
This Episode is Brought To You By

Alma is on a mission to simplify access to high-quality, affordable mental health care by giving providers the tools they need to build thriving in-network private practices. When providers join Alma, they gain access to insurance support, teletherapy software, client referrals, automated billing and scheduling tools, and a vibrant community of clinicians that come together for education, training, and events.
Alma gives clinicians the tools they need to build thriving private practices. When you join their insurance program, you can get credentialed within 45 days, and access enhanced reimbursement rates with major payers. They also handle all of the paperwork, from eligibility checks to claims submissions, and guarantee payment within two weeks of each appointment.
In addition to their insurance program, Alma offers timesaving tools and administrative support — so you can spend less time on paperwork, and more time delivering great care to your clients.
Learn more about building a thriving private practice with Alma at helloalma.com/elevation.
About Terry Cralle, RN
Terry Cralle, MS, RN, is a Registered Nurse based in Washington, DC. She is certified in clinical sleep health and has co-authored two books on sleep; Snoozby and the Great Big Bedtime Battle (Rowe Publishing, 2015), the first nonfiction book directly messaging the benefits of sufficient sleep to young children and Sleeping Your Way to the Top (Sterling Publishing, 2016), the ultimate guide to success through sufficient sleep.
Subscribe & Review in Apple Podcasts
If you're not yet subscribed to the podcast I want to encourage you to do that today. This is the best way to make sure you don't miss an episode! Click here to subscribe on iTunes.
And if you're feeling extra generous, I'd love to hear what you think about the podcast. Reviews help others find the podcast plus I'd really love to hear what you think! Click here to leave a review. Just click on "Ratings & Reviews" then "Write a review." Let me know what you like best about the podcast. Thank you!