Have you tried using SEO (Search Engine Optimization) on your private practice website, but you're still wondering why people still can't find you on Google?
Or perhaps you're just getting started on building your website and wondering, "what do I need to do to make sure that clients can find me in search engines?"
In this episode of the Private Practice Elevation Podcast, we're going to talk about the five most common SEO mistakes I see therapists make.
Most private practice owners agree that organic traffic to their website can be a great stream of referrals into the business.
However, many people fail to see the results they want from their SEO efforts.
They've got a website – maybe even a great looking one – but the analytics show that not many people are visiting the website or using it to take the next step toward becoming a client.
I've consulted with scores of therapists over the years and have reviewed many websites.
And time and again I see these top 5 mistakes holding folks back from getting momentum with their SEO strategy.
In This Episode, You'll Learn:
The first thing you need to do before investing time and money in your SEO strategy
What content you'll want on your website to get more traffic from search engines
How to find the right keywords – the ones that your clients are using – to get more traffic and clients from your private practice website
How long should you expect it to take to see improvements in your website traffic
The 4 main categories of search engine optimization that you'll need to focus on to build a solid SEO strategy
Links mentioned in this episode:
Growing a caseload of clients you're passionate about working with can help you build a career that's both impactful and sustainable. But it's often easier said than done — which is why Alma has created a guide to help you identify and connect with clients who fit your practice.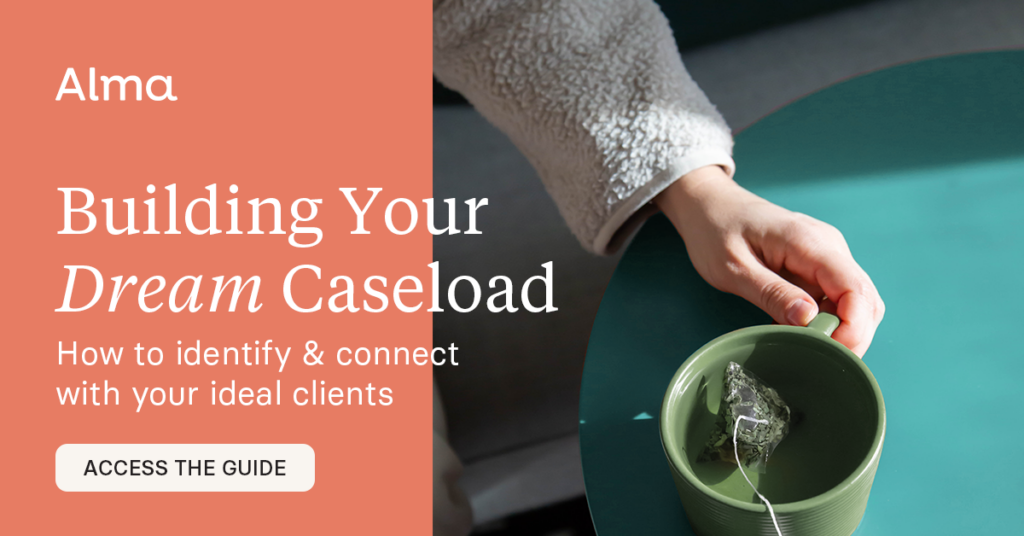 What's inside?
Understanding client compatibility
Identifying your niche
Defining what makes you uniquely qualified
Attracting ideal clients
And more
For additional information Alma and how they support clinicians, visit helloalma.co
This Episode is Brought To You By


Alma is on a mission to simplify access to high-quality, affordable mental health care by giving providers the tools they need to build thriving in-network private practices. When providers join Alma, they gain access to insurance support, teletherapy software, client referrals, automated billing and scheduling tools, and a vibrant community of clinicians that come together for education, training, and events.
Alma gives clinicians the tools they need to build thriving private practices. When you join their insurance program, you can get credentialed within 45 days, and access enhanced reimbursement rates with major payers. They also handle all of the paperwork, from eligibility checks to claims submissions, and guarantee payment within two weeks of each appointment.
In addition to their insurance program, Alma offers timesaving tools and administrative support — so you can spend less time on paperwork, and more time delivering great care to your clients.
Learn more about building a thriving private practice with Alma at helloalma.com/elevation.
Download our Free SEO Guide
Subscribe & Review in Apple Podcasts
If you're not yet subscribed to the podcast I want to encourage you to do that today. This is the best way to make sure you don't miss an episode! Click here to subscribe on iTunes.
And if you're feeling extra generous, I'd love to hear what you think about the podcast. Reviews help others find the podcast plus I'd really love to hear what you think! Click here to leave a review. Just click on "Ratings & Reviews" then "Write a review." Let me know what you like best about the podcast. Thank you!
The 5 Most Common SEO Mistakes I See: Key Takeaways
Optimize your website for SEO.
Search Engine Optimization (SEO) is an important tool for any website, especially for private practice websites. SEO helps your website be found more easily by potential clients, and can make a huge difference in the success of your business. Unfortunately, many people are still unaware of the power of SEO, or are unsure of how to properly implement it.
In today's digital world, SEO is more important than ever. SEO is the process of optimizing your website in order to get higher rankings on search engine results pages. By optimizing your website, you can increase your visibility and attract more potential clients.
Having a keyword strategy is essential for SEO. It's important to research and choose the right keywords for your website, as this will help search engines find your website more easily. Additionally, having a mobile-friendly website is a must. More and more people are accessing the internet from their phones, so it's important to make sure your website looks good and functions properly on mobile devices.
Having a content strategy is also important for SEO. You want to make sure that your website is filled with useful, relevant content that is optimized for search engines. This means including keywords in your content, as well as making sure that your content is easy to read and understand.
Start with an SEO Assessment
When it comes to assessing SEO performance, it is vital to take a comprehensive look at all four pillars of SEO: technical SEO, foundational content, onsite SEO, and offsite SEO. This means taking a look at the current performance of the website, what keywords it is currently ranking for, and whether or not Google can crawl the website. Additionally, it is important to make sure that the website has the right type of content, the right amount of content, and the right keywords for search engines to take notice of. Without the proper content and keywords, it is likely that the website will not rank as highly as competitors, and will not be able to reach its ideal clients.
Finally, it is important to remember that SEO is a long-term process and one that requires ongoing effort. It is not enough to simply assess SEO performance and then move on. Regular assessments should be done to ensure that the website is up-to-date and properly optimized for SEO. Additionally, it is important to monitor the website's performance and adjust the SEO strategy as needed.
SEO is an iterative process and certainly takes time!
By taking the time to assess SEO performance thoroughly and making sure that the website is properly optimized for search engines, you can ensure that your website is able to reach its ideal clients and that your SEO strategy is effective.
Take a holistic approach.
A holistic approach to SEO is the key to success. This means looking at all four mountains of SEO: technical SEO, foundational content, on-site SEO, and off-site SEO. Each of these areas provides different opportunities to optimize your website and increase its visibility.
Technical SEO involves making sure that the website is optimized for search engine crawlers. This includes using the appropriate meta tags, titles, and descriptions, as well as making sure the website is optimized for mobile devices.
Foundational content is important for SEO because it provides the foundation for the website. It includes creating content that is relevant to the audience and is optimized for search engine crawlers. This includes writing blog posts, creating landing pages, and optimizing images and videos.
On-site SEO involves optimizing the website for keywords that are relevant to the target audience. This includes doing keyword research to determine which terms are being used by potential clients, as well as creating content with those keywords in mind.
Off-site SEO involves creating backlinks from other websites to your website. This helps to increase the visibility of your website and helps to improve its ranking in search engine results.
By taking a holistic approach to SEO, you can ensure that all four mountains of SEO are properly addressed. This will help to increase the visibility of your website and help to drive more traffic to your website. Additionally, it will help to improve the ranking of your website in search engine results, which will help to increase the number of potential clients that find your website.
Finally, if you are feeling overwhelmed with the process of improving your website's SEO, there are resources available to help you. Private Practice Elevation offers a free SEO guide that provides simple strategies that any therapist can use to improve their SEO and get more website traffic.
Additionally, we offer free clarity calls to help you understand the most important things that you can do to get more SEO traffic.