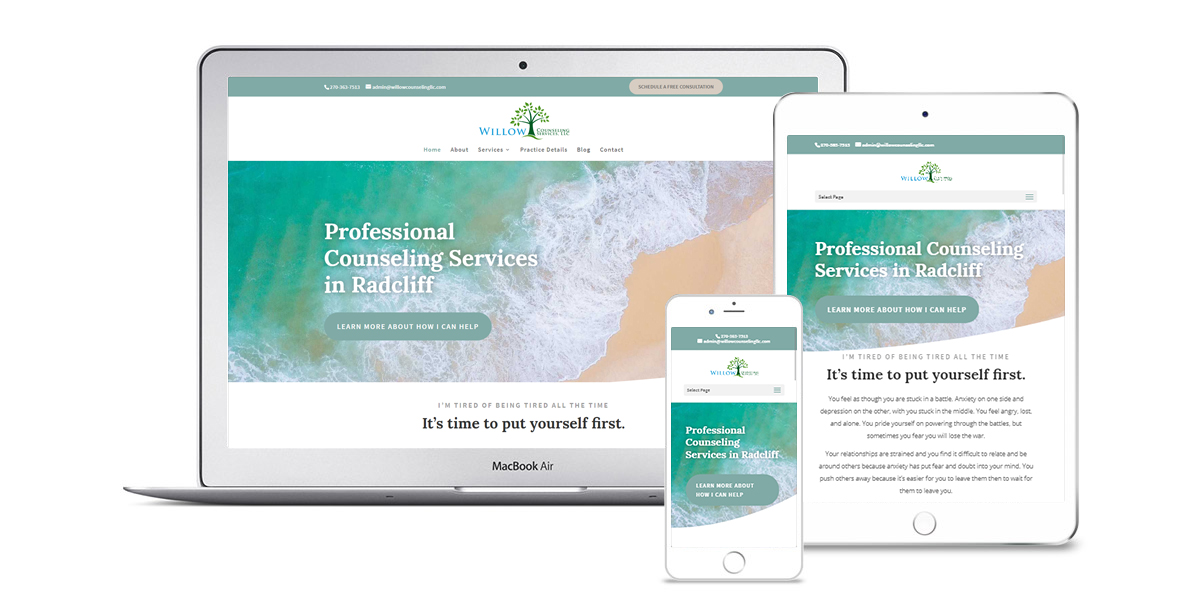 Amanda Lacefield has been in private practice for years. She had a therapy website, but it was outdated, hard to use and it didn't represent her business or her ideal clients well. This meant she wasn't getting a lot of new clients and the ones she was getting, were not always a great fit.
Before the Therapy Website Redesign
Amanda had goals to grow her business by 30% in a year and she knew her current website wasn't going to cut it.
When we first began working with Amanda, her website didn't make it very clear who her services were for.
She loved working with clients to reduce their anxiety and depression.
But the clients she was attracting to her business were all over the place, lacking commonalities that reflected Amanda's sweet spot.
She also had added new services to her private practice, such as EMDR, that she wanted to showcase more on her website, but in its current state, it was very difficult for her to update.
At that time, she was seeing about 15 – 20 clients a week in her private practice.
Not a small amount by any means. But with the goals Amanda had for her practice and her desire to do more of the work she loves (with the types of clients she loves), she knew it was time to redesign her therapy website and reposition herself.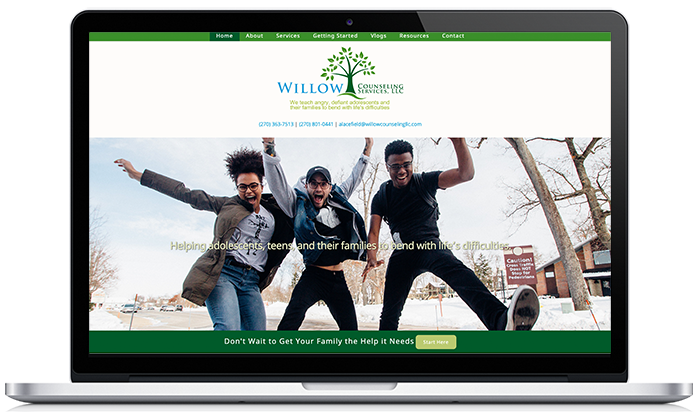 Amanda Lacefield Willow Counseling website before the redesign.
Our Approach to the Website Design
Amanda had worked very hard to create a physical office space that was safe, inclusive and felt like home to her clients.
It was important that her new website be an extension of this intention.
Since the clients Amanda loved to help were those with anxiety and depression, we knew it was going to be important to provide that feeling of calm and safety at their first interaction with her business… her private practice website.
Even though Amanda's practice is in Radcliff, Kentucky, she used light imagery of the ocean to portray that sense of calm.
We made sure the website had clean and open white space to make the text easy to digest and not add more confusion or anxiety for her website visitors.
Her old website lacked clarity right at the start, with a homepage that felt more like a hip, young-adult service, rather than the high-end professional counseling service Amanda wanted to portray.
So we focused in on her services right on the homepage, a strategy we use on most of our private practice website projects, to help with SEO and get the user to the information they need as quickly as possible.
This gives the user a quick glance at Amanda's counseling services and establishes her as an authority as a therapist with specialized skills.
We also clarified what we wanted users to do on her website: schedule a free consultation.
This helps lead users down a path to actually becoming clients, instead of getting lost and wondering what to do next.
The Results of Her Therapy Website Redesign
We always do a 90-day post-launch check in with our clients to make sure that the website is helping them achieve the business goals of the project.
We also use this time to discuss other strategies they can use to grow their business, now that their new website has been live for some time.
When I checked in with Amanda, I was blown away by what she reported…
In the first week that the website was live, she received 7 new clients!
And within the 90 days since launching her new website, she doubled the number of clients she was seeing in her practice, going from about 15 – 20 clients a week to a whopping 41 – 46 clients.
She's had to add another workday to her week and put people on a waiting list.
Instead of wondering where her next client will come from, Amanda is now planning to hire another clinician to keep up with the demand.
Another thing has happened too: with her old website, Amanda couldn't put her finger on the type of client that typically came to her. She had a mix of seemingly random demographics that came to her for therapy.
Now that her website is focused on the type of therapy she loves to do and her ideal client, she's getting more clients in line with her niche of anxiety and depression.
She's enjoying her work much more now that she's working with the people she truly loves to help.
What Amanda Had To Say About Working With Us
Grow your private practice with a new website strategy.
Get more traffic. Get more clients. Scale your practice.