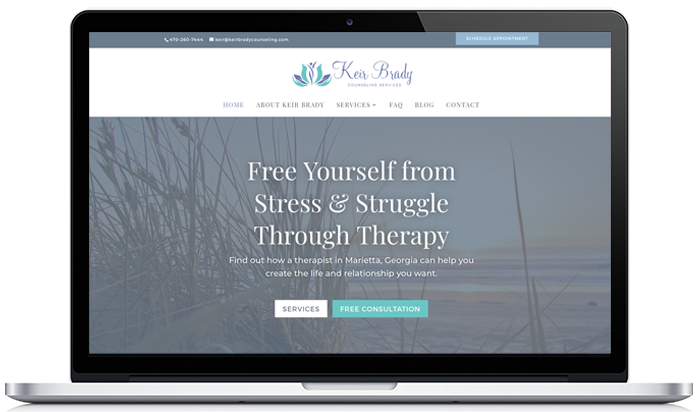 Keir came to us while transitioning from a counseling center into her own private practice. She needed a website to fill her new practice so she could go all-in with her new business.
Our Approach
As with all website builds, knowing the ideal client is step number one in attracting the right kind of traffic to a website.
Keir's website was no different. She described her target clients as anyone with unprocessed trauma or anxiety disorders as well as couples struggling with effective communication.
So we kept her services simple: individual and couples counseling. This meant we could be very clear about the services she offered.
Each service page was optimized for SEO to help boost organic traffic from Google and help her get found locally.
But in order to attract those ideal clients and really drive more traffic, we included a blog section where Keir could share her expertise and really expound upon the topics she's best suited to help her clients with.
Understanding the geographic location also played a part in the overall design of the website. Her office is actually around the block from me (Daniel)! So I understand the demographic of middle to upper class families that expect quality service.
So we landed on a very clean and modern look with calming photography that would help her high-anxiety clients feel at ease, trusting that Keir would be a good fit for them.
Copy Writing & SEO
Another investment that had big payoffs for Keir was that she decided to use a copy writer to write her content.
Working with a professional writer can really help you capture your target audience and make sure that you have not only an ample amount of text for each page, but that the message is clear and attracts your target client.
This also gave us plenty of content to work with when we began designing these pages. 
We were able to create a clean and clear flow to all the content pages so that each visitor could digest the information and not get lost in a sea of words.
We also took each of these pages and were able to optimize each on for search engines.
We made sure the keywords Keir's clients were using were placed in the right locations and optimized titles, meta descriptions, alt text and more.
Keir was just getting started with her practice, so she had no clients when her website launched.
But after launching a well-structured website, optimized for search engines and with a content plan in place, Keir saw a 164% increase in new visitors and 34% increase in pageviews in just over 2 months.
After about 3 months, she's averaging 4 to 6 new leads each and every month and has added 16 new clients to her practice. All within 3 months of us launching her new website.
Most-importantly, Keir now has a platform that is allowing her to market her practice online. She's actively publishing blog content and sharing that content on Facebook to drive traffic to her therapy website.
What Keir Had To Say
"I knew I needed a professional website for my practice and I wanted it done right. So I decided that it was important to enlist the services of an expert in this field.
Since Daniel's wife is a therapist, he has a unique understanding of the challenges and opportunities in the field, as well as what is needed in a website to help attract potential clients. After the initial call, I felt that he understood my vision and was capable of helping it become a reality.
The website that Daniel created completely encapsulated my vision. Daniel is warm, friendly, and very easy to work with.
Daniel is a very skilled website designer who is easy to work with, listens to your vision and then creates it, and responds promptly to any questions or concerns you may have. If you want a beautiful, professionally done, easy to navigate website, there is no better choice!"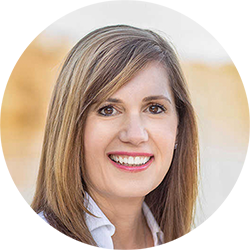 Grow your private practice with a new website strategy.
Get more traffic. Get more clients. Scale your practice.