Website Strategy Session
1-hour coaching calls to evaluate your website and give you an online marketing strategy specific to your private practice.
Schedule Your Strategy Session
As a private practice owner, you're inundated with an endless list of things you SHOULD be doing to market your private practice. 
Website design, copywriting, search engine optimization, blogging, and the list goes on…
But what can you do to actually use your website to grow your private practice and increase your revenue?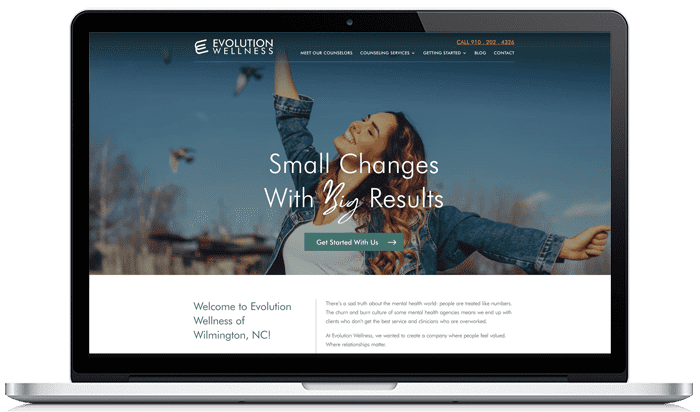 You need a solid plan to improve your website and get more clients.
With all these "website to-dos" piling up you end up feeling overwhelmed, confused, and unable to see the forest from the trees.
And throwing things against your website to see if it sticks is costing you time and precious money as you try to figure all this out on your own.
Website Strategy Sessions are designed to give you the answers and confidence you need to move forward with effectively marketing your private practice online.
Over the last 5 years, I've helped scores of private practice owners redesign their websites, get more traffic, and convert that website traffic into new clients.
With a Website Strategy Session, you get access to what I've learned and the tried and true strategies we use to create websites that improve our clients' bottom line.
Together we'll dig into your specific situation to uncover what's working, what isn't working, and where you should begin.
You'll walk away with a handful of ways you can improve your website, SEO, and overall online presence so that you can reach your business goals.
Get Started With Your Website Strategy Session
Step #1
Sign Up
Purchase your Website Strategy Session by clicking the button below.
Step #2
Schedule Your Call
Choose a time that works for your call with Daniel.
Step #3
Get A Plan
Walk away from your call with specific things you can do to improve your website.
Each strategy session includes a 1-hour call and a website audit report to evaluate the effectiveness of your website.
A Website Strategy Session can help you…
Get a clear sense of direction and know what improvements you can make to your website.
Feel confident knowing what to focus on in order to create momentum in your online marketing.
Take your mile-long website to-do list and cull it down into a handful of strategic tasks.
Understand how your website fits in with your larger marketing strategy so that you can continue to grow your private practice.
Schedule Your Website Strategy Session and Ditch The Overwhelm
You could continue feeling overwhelmed by all of the website and marketing strategies you hear about in the Facebook groups and podcasts.
All that leads to is missing out on new clients and revenue in your business.
Or we could hop on a call, dig into your situation, and come up with some clear steps to get you closer to your business goals.
Website Strategy Session FAQ
What's Included?
Each Website Strategy Session Includes the following:
1-hour Zoom Call
This call will be recorded and you'll have access to it after our time together, so you won't miss a thing.
Website Audit Report PDF
This website report measures everything that matters to the online success of your private practice. In other words, it's all you need to make more strategic website and online marketing decisions.

You can use this report to quickly and efficiently evaluate your website's strengths and weaknesses—in more than 40 different ways.
How Does It Work?
The first thing you'll do is purchase your Website Strategy Session by clicking on the buttons on this page and going through the checkout process.
After that, you'll receive an email that will contain:
Calendly link that you can use to schedule a time for your call with Daniel.
A link to a form to let us know more about your situation, your goals and pain points.
When the scheduled time comes for your call, you'll hop on Zoom with Daniel and begin your strategy session.
Afterwards, you'll receive a link to the recording of your call and a copy of your website audit report PDF.
What Can We Talk About?
Pick My Brain
You can use your consultation time to pick my brain about anything web design or online marketing related. Think of it like coffee with a friend. Are you having trouble understand whether your website is actually converting? Need a professional designer's eye to tell you what's working (or not) on your website? You can ask me anything and I'll do my best to help you find the best solution that works for you and your practice.
Website Evaluation
Do you have a website already but want to get some fresh eyes on it to make sure it's effective? I'd love to help. With a website evaluation you'll get the advice of a professional web designer without the commitment to hire one. We'll walk through your website together and I'll give you tips on ways you can improve it so that it best communicates the services you offer as well as ways to increase usability.
Some topics we could discuss:
Website usability
Content organization and navigation
SEO strategy
Overall aesthetics and web design
Effective calls to action
Marketing funnels
Traffic building and conversions
and more
What's Included
1 hour consultation via Zoom
Video recording of our time together so you don't miss a thing
Call notes including the main takeaways and any relevant links or resources mentioned during our time together
YOU GET ALL THREE FOR $299
How To Get Started
Purchase your strategy call
You'll receive a link to schedule your coaching call and a quick form to fill out
Once you schedule, I'll be in touch with a Zoom meeting link
If you have trouble finding a time slot that works for you, please email us and we can find a time that works. Cancellations/reschedules can be made up to 24 hours prior to our scheduled consultation. Cancellations within 24 hours will not be refunded. I know life happens, so you can reschedule up to 2 times. After that, you forfeit payment and will need to schedule and pay for a new consultation appointment.